Chris Pratt Will Be The Voice Of Super Mario And Twitter Has Feelings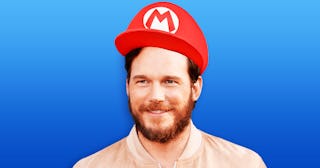 Scary Mommy and Frazer Harrison/Matt Winkelmeyer/Getty
If your first reaction to the news of Chris Pratt voicing the Nintendo character in the movie adaptation is "WTF," then you're not alone
Amusement park rides as movies are so early 2000s, don't you think? We're now back to turning video games into movies. It makes sense: with all the turmoil going on in the world, it's understandable that we'd want to cozy up to something familiar. Hollywood agrees and so the upcoming animated film Mario has introduced their voice cast, led by Chris Pratt voicing Mario.
Nintendo breathlessly announced the cast of Mario (more on that below), its upcoming Super Mario Bros. movie. The animated film will hit theaters late next year and Chris Pratt took to social media to let fans know he's been prepping hard for his upcoming role.
Looking forward to a jacked-up Pratt using his superiority in new, inventive ways.
Pratt will lead the cast as Mario, Charlie Day will voice Mario's little brother, Luigi. Queen's Gambit star Anya Taylor-Joy will play Princess Peach, with Jack Black as Bowser. Seth Rogen will voice Donkey Kong and Keegan-Michael Key appears as Toad. The rest of the cast includes Fred Armisen as Cranky Kong, Kevin Michael Richardson as Kamek, and Sebastian Maniscalco as Spike, along with "surprise cameos" from the original Mario voice actor Charles Martinet.
For a number of reasons, the internet had a massive "huh?" moment when they heard that Pratt would be voicing the character commonly believed to be an Italian plumber from New York.
The cast is so stacked with A-list talent that one has to wonder if the casting director taped the names of Hollywood stars to the back of kindergartners and had the kiddos run around the playground until they got tired. First one down gets to star in a video game movie.
Pratt wasn't the only one to get skewered online. Which one of you made this?
Or this ode to Seth Rogan as Donkey Kong?
Yahoo reports that Shigeru Miyamoto is co-producing the film with Illumination CEO Chris Meledandri, and Universal Pictures will release the film in North American theaters in December 2022.
"This is a very collaborative project between Illumination and Nintendo," Miyamoto said. "We've all been coming up with all sorts of ideas, and I myself am enjoying a creative process that is a little bit different from making games. It may be a while until we can share more updates, but I hope you'll look forward to it."
People on Twitter might be annoyed that Pratt is playing Mario, but it's a movie for kids based on a video game. Everyone chill out, yeah?