Chris Pratt Warns Of Imposter Posing As Him And Messaging Women On Facebook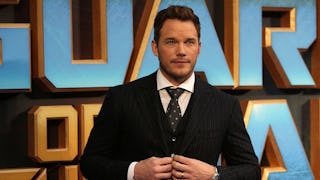 DANIEL LEAL-OLIVAS/AFP/Getty Images
Chris Pratt tells fans an imposter is sending messages from a fake Facebook account
Chris Pratt is known for his hilarious social media updates, but one of his latest post is actually really serious. The actor took to his accounts to warn his fans of an imposter that's posing as him and messaging women on Facebook.
"PERVY DUDE ALERT!!! (Not a joke)" he wrote. "It's confirmed: somebody is trying to pretend to be me on Facebook (and maybe other social media platforms) apparently hitting on a lot of different female fans, trying to get their numbers and who knows what else. I'm not joking."
Pratt made it clear that he'd love nothing more than to use put those Jurassic Park biceps to use on whoever's behind this gross scam. "Please know, I find this behavior reprehensible. If I find out who it is I'll have their account shut down and seriously would like to punch them right in the GD mouth."
Obviously getting a message from someone you think is the Chris Pratt in your inbox would be enough to drive all rational thought from your brain. But he gave fans an easy way to tell if the message they receive is legit. "Look for the BLUE "VERIFIED" CHECKMARK next to the name. If there is no checkmark by my name that person is an imposter. I'm sorry."
Pratt, who shares a five-year-old son with Anna Farris, said he was especially concerned with the thought of a child fan falling victim to the scam. After all, tons of kids are huge Star-Lord fans. "Tell your siblings. Educate our young ones," he wrote. "It's probably mostly kids who would fall for this. Makes me sick."
After Pratt's post, some victims of the imposter stepped forward to say they had been targeted.
The imposter is messaging Pratt fans on Instagram and Twitter too.
Pratt's known for being extremely generous when it comes to meeting and greeting his fans. He said he hated the thought of someone getting crushed when they realized they weren't talking with the actor — or worse, getting taken advantage of in some way. "It terrifies me to think someone could be hurt, their feelings or much worse, by this imposter/potential predator," he wrote. "I've had many, many people tell me about this. It's not an isolated incident. If anyone is in contact with this person block them immediately."
Of course, some of his fans couldn't pass up this opportunity to make a joke out of their missed love connection.
Why a spoon though?
Here's hoping the imposter crawls back into their hole quickly and stays there. But it's clear that if they don't, Pratt's been taking close notes from all his action hero films, and he's willing to go scorched earth/grand finale if that's what it takes to bring this faker down. "If it's you doing it, I'm warning you. Stop right now or you will@ [sic] be very unhappy with the outcome. Go find Jesus.
🙏 praying for you."