Couple Loses It Telling The Funniest Ultrasound Story, Ever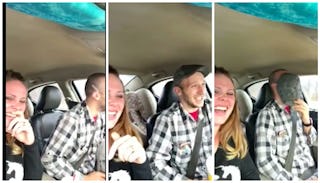 Image via Facebook/ Rachel McQueen
Couple leaves the gynecologist in tears of laughter after appointment goes wrong
We've all experienced some amount of discomfort at the gynecologist, it kind of comes with the territory. When your feet are in stirrups and someone is staring into your vag, it's not hard to imagine things getting a little uncomfortable.
There's a little uncomfortable, then there's A LOT uncomfortable.
Rachel McQueen had just wrapped up a trip to her gynecologist, when something went so awry she really had to share. She and her husband Chris took to Facebook to share a little story about their experience, and we haven't stopped laughing.
Her husband describes her reaction to a part of the exam, after the ultrasound. "Oh. OH. Whatever you put in there, it's HOT. You got to GO." The doctor grabbed the wrong bottle. He used hand sanitizer instead of a lubricant.
"The doctor asked, 'Is there anything else I can do for you?' I replied, 'No, I think I have had enough," Rachel told Scary Mommy. "Yes the damage has been done," the doctor replied, as the McQueens continued to laugh.
First of all, how much do you love these two, especially Rachel? Anyone who can see the humor in having hand sanitizer accidentally shoved in her lady parts is okay by us. Then there's this:
"Feeling clean."
Dead.
This article was originally published on