When His 89-Year-Old Neighbor Got Sick, He Asked Her To Move In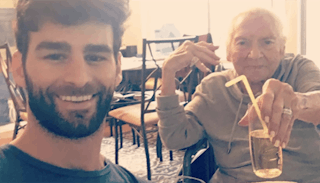 When his 89-year-old neighbor got sick, this young actor made her his roommate
Neighbors are a crap shoot. Sometimes they play death metal at three in the morning and slam doors all the time and you celebrate the moment you see a moving van pull up. But sometimes you get lucky, and a perfect stranger becomes someone you can't imagine life without.
On paper, Norma Cook and Chris Salvatore don't seem like two neighbors who would have a special connection. She's 89, and he's a 31-year old actor. But when Cook needed round the clock care, Salvatore helped her move her stuff from across the hall into his own apartment.
"She called me the grandson she never had," Salvatore told Today.
Cook has leukemia. She recently spent two months in the hospital ill with pneumonia and other health issues. The hospital said she couldn't be released without round the clock care, which wasn't covered under her insurance. Salvatore raised over $50,000 for her through a GoFundMe campaign, but the funds were quickly used up trying to find nurses that were the perfect fit. Wanting her to be comfortable and in a familiar space, he invited her be his new roomie.
Salvatore chronicles his adventures with Cook on Instagram using the hashtag #myneighbornorma. The two enjoy watching the news, eating peanuts and drinking Cook's beverage of choice — champagne (cheers to that!)
"The nurses and doctors told her that it would be a miracle if she lived past the holidays, so the fact that she's still thriving is just a really great thing," Salvatore said. "She's doing great. If you could see her right now, she looks so cute on the couch with her feet propped up. She just hangs out on my couch and watches TV."
Cook is childless and doesn't have nearby family, so she was thrilled to take Salvatore up on his offer. "She couldn't be happier that I asked," he said. "I was over there visiting most days anyway."
"The only other option was for her to go into a facility," he explained. "I just couldn't do that to someone who is like my own grandmother." Cook's cat, Hermes, is also a new resident at Salvatore's place. "She does not want to budge," Salvatore said. "My apartment was the only place she would have moved. She has strong opinions about where she wants to carry out the rest of her days, and she wants to stay here."
Dimples for days and a heart of gold on top of it. If only we were all lucky enough to have a neighbor like Salvatore.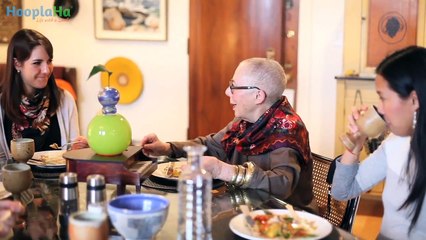 This article was originally published on