Chrissy Teigen Pens An Honest Open Letter About Her Postpartum Depression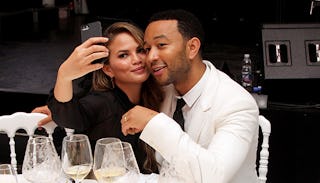 Image via Andrew Goodman/Getty Images for Celebrity Fight Night
Chrissy Teigen writes about her postpartum depression
Chrissy Teigen is the mom-BFF we all wish we had. She's been open about everything from fertility struggles, to mom-shaming, to admitting she has all the help she needs. She's transparent. She's funny. She takes no shit.
And today, in an essay for Glamour, she reveals she has postpartum depression. The honest way she approaches the subject and the way she explains how she's felt since her daughter Luna was born will be a very familiar tale to many. And it's exactly why it's so important that she's decided to share it.
Luna was born to Chrissy and husband John Legend last April, after a public struggle with infertility. Teigen explains, "We had our daughter, Luna, who is perfect. She is somehow exactly me, exactly John, and exactly herself. I adore her." She admits to having everything she needed to be happy, but that for much of the last year she didn't feel happy at all. "What basically everyone around me—but me—knew up until December was this: I have postpartum depression. How can I feel this way when everything is so great? I've had a hard time coming to terms with that, and I hesitated to even talk about this, as everything becomes such a "thing." During pregnancy, what I thought were casual comments about IVF turned into headlines about me choosing the sex of my daughter. And I can already envision what will be said about me after this admission. But it's such a major part of my life and so, so many other women's lives. It would feel wrong to write anything else."
And this is why we love her.
Teigen admits, "Before this, I had never, ever—in my whole entire life—had one person say to me: 'I have postpartum depression.' Growing up in the nineties, I associated postpartum depression with Susan Smith [a woman now serving life in prison for killing her two sons; her lawyer argued that she suffered from a long history of depression], with people who didn't like their babies or felt like they had to harm their children. I didn't have anything remotely close to those feelings. I looked at Luna every day, amazed by her. So I didn't think I had it." So many people have an "idea" of what postpartum depression looks like, and it's usually nothing like it at all. I remember crying for three months straight after my first child was born, but never seeking help because I loved my child. I enjoyed being his mother. We don't share these stories enough, so when we go through it ourselves, we end up navigating foreign waters — unsure what exactly is going on. All we know is that something is wrong.
"I was different than before" Teigen explains. "Getting out of bed to get to set on time was painful. My lower back throbbed; my ­shoulders—even my wrists—hurt. I didn't have an appetite. I would go two days without a bite of food, and you know how big of a deal food is for me. One thing that really got me was just how short I was with people." We're so used to being labeled "moody" as women — we don't realize that we may in fact need help. "I couldn't figure out why I was so unhappy," she writes. "I blamed it on being tired and possibly growing out of the role: 'Maybe I'm just not a goofy person anymore. Maybe I'm just supposed to be a mom.'"
Teigen goes into so much detail of exactly what her life looked like for a while: "I started keeping robes and comfy clothes in the pantry so I wouldn't have to go upstairs when John went to work. There was a lot of spontaneous crying." She finally decided to get help.
"I was so tired of being in pain. Of sleeping on the couch. Of waking up throughout the night. Of throwing up. Of taking things out on the wrong people. Of not enjoying life… My doctor pulled out a book and started listing symptoms. And I was like, 'Yep, yep, yep.' I got my diagnosis: postpartum depression and anxiety. (The anxiety explains some of my physical symptoms.)"
When anyone opens up with this amount of detail about something they are struggling with, it is such a huge help to others navigating the same waters. Sometimes all you really want to hear when you are in the throes of anxiety and depression is: You're okay. You're not going to die. I am going through this, too.
It's so important, as women, that we share these battles with anxiety, because so many of us are going through it. And we're natural warriors, so oftentimes we just keep marching through it, to the detriment of our mental health and happiness. Please read Teigen's entire essay. And remember you are not alone. No matter what your circumstance, there are women everywhere who feel exactly like you do right now.
"I'm speaking up now because I want people to know it can happen to anybody and I don't want people who have it to feel embarrassed or to feel alone," Teigen writes. "I also don't want to pretend like I know everything about postpartum depression, because it can be different for everybody. But one thing I do know is that—for me—just merely being open about it helps. This has become my open letter."
If you think you are experiencing postpartum depression, Postpartum Progress has resources to help you.
This article was originally published on