Chrissy Metz Rocks Latex Dress And Claps Back At Body Shamers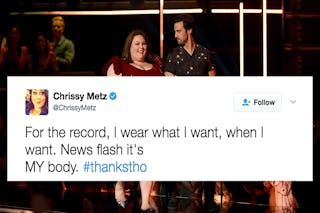 Image via Kevork Djansezian/Getty Images
Chrissy Metz wore a latex dress to the MTV Movie Awards and she doesn't care what you think
The MTV Movie Awards are known for being the one awards show where actors let loose and let their rock-n-roll fantasy wardrobes come alive. Spoiler alert: the outfits can be… interesting. But that's the point. It's a place where people can have fun and be daring with fashion.
Here are just a few of the outfits that hit the red carpet last night:
And a few more:
But no one got as much attention as Chrissy Metz, who hit the stage in a red, latex dress.
There was a chorus of fat-shaming and dress shaming, because the internet is predictable. As if the fat-shamers aren't bad enough, there is a chorus of people insisting that it's not her, it's her dress.
"Ok… understand that she can wear what she wants… but it is really an ugly unflattering dress."
"I'm not body shaming with this comment….that dress on anyone is hideous!"
"Body shaming, more like dress shaming. That dress is ugly. And also it does not accentuate her figure…. Makes it look short. That's not body shaming."
Ugh, internet. Let. Her. Live.
Everyone else who attends that awards show has fun with fashion, why the hell shouldn't she? Imagine what it's like being an overweight woman hitting the red carpet with a bunch of tiny teenagers and career models. Couldn't have been easy. And Metz said, "Fuck it, I'm wearing this." And she looked happy and freaking awesome. She's not here for your body, or dress shaming — and we love her for it. She clapped back at all the attention her choice of dress was getting on Twitter:
Yes, yes, a thousand times yes. Anyone can have fun with fashion, and Metz doesn't have to be apologetic about it.
"Size doesn't equate to beauty," Metz told Marie Claire in March. "I don't understand why that's a thing. Well, I do, because the media has told us thin is beautiful. But is it?"
We're here for your fun outfit, Chrissy. No matter what the haters have to say.
This article was originally published on