Chrissy Teigen Admits To Plastic Surgery With Her Signature Honesty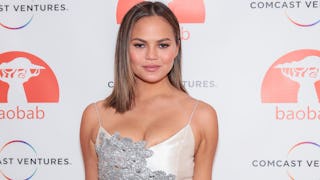 Image via CJ Rivera/Getty Images
Chrissy Teigen's had a little work done and says she would do it again
In a recent interview, Chrissy Teigen casually admits she's had plastic surgery. She announces it like the "no big deal" that it is, making us adore our favorite celebrity mom even more.
Teigen is known for her absolute lack of fucks given on a number of subjects, most notably, the opinions of Twitter trolls who try taking her to task for her parenting, her struggle with infertility, oh, and again, her parenting.
With all that experience throwing shade at morons who try their best to detract from her amazingness, it's no surprise that she handles the stigma-filled topic of plastic surgery with the same breezy attitude. Teigen tells Refinery29, "I had an armpit sucked out, which was one of the best things. It's a big secret, but I don't care. It was nine years ago or so. And I had two inches to my armpit."
First of all, can I please suck the fat out of my armpit area too? Because hello, I'm very tired of the extra boob that lives there when I put on my bra. Secondly, Teigen says she might need to revisit the procedure because after nine years, it's returned. "Now it's back though, so now I've gotta pay for [liposuction] again. It was so easy. It made me feel better in dresses; I felt more confident."
And isn't that the point of any cosmetic procedure? It's infuriating that our culture tends to vilify women who've had plastic surgery or liposuction while also insisting that we all look perfect, even weeks after having a baby. If a procedure makes someone feel better about themselves and they're willing to pay for it, what skin is it off anyone else's nose? Or, fat off their armpit.
For her part, Teigen thinks having lipo was a little silly in retrospect, but has zero shame about her choice, as she shouldn't. "It was the dumbest, stupidest thing I've ever done. The dumbest, but I like it, whatever. I have no regrets, honestly."
Well, she might regret one tiny thing, since the internet apparently has no sense of humor. Teigen took to Twitter to clarify that another remark she made to a group of beauty editors about "everything" being fake except her cheeks was just her signature sense of humor and not meant to be taken seriously.
She cites her (um, amazing) ass as further proof that she's only barely gone under the knife.
Actually, most of us probably would, but you keep doing you, Chrissy. We love you for it.