Chrissy Teigen's Getting Her Own Cooking Show And We're Extremely Ready For It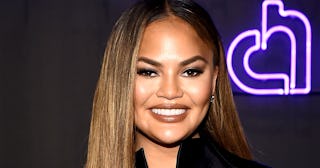 Dimitrios Kambouris / Getty
Chrissy Teigen has her own cookbooks and now, she'll have her own cooking show
Today was just going along like a regular day and then suddenly, it got a lot more amazing. That's because Hulu announced that Chrissy Teigen is getting a cooking show that she'll be hosting along with Momofuku restaurant group mogul David Chang. If you're a fan of Teigen's cookbooks, line of Target cookware, and Instagram Stories documenting her foodie adventures then you'll love what she's got cooking now.
See what we did there?
This morning, Hulu dropped a whole bunch of new programming announcements and we're sorry, but we didn't hear most of it once the news of Teigen getting her own cooking show was shared. This is like, extremely exciting.
The streaming service is obviously very pumped to have Teigen's brand of genius on board. They pointed out her status as ruler of Twitter, her recent inclusion in the Time 100, and her cookbooks as reasons she's a perfect fit.
https://twitter.com/jetpack/status/1123594312028045312
According to Variety, Chang's Majordomo Media, Teigen's Suit & Thai Productions, and Vox Media Studios have begun a multi-year and multi-show partnership that will result in the development of "premium food-centric programming." It will be the first food programming for Hulu.
This news has got us like:
One of the first shows planned will be co-hosted by Teigen and Chang. "Family Style" will focus on the connection between food and familial connections. "Eater's Guide to the World" is another title in the works and will involve travel and food which, yes please.
In a statement, Chang says of his partnership with Teigen and Vox: "I'm hoping we can keep integrating new perspectives into the conversation, telling compelling stories about our culture, and trying to change people's ideas of what food television can and should do. I think there's an audience out there that understands and celebrates the world through food, and they're hungry for shows that feed their sense of curiosity in new ways."
If this all means more of Teigen's brand of blending super delicious-looking food and her signature funnies, we're all for it.
We also hope she might include her tiny foodies in an episode or two, because look at them.
Teigen can basically do no wrong in our eyes and if there's one thing she knows (ok, she knows tons of things) it's cooking. No word yet on when the new shows premiere, but we already can't wait to see it all.
This article was originally published on