Chrissy Teigen To Rule Over Her Own Courtroom TV Show Full Of Petty Beefs
by Thea Glassman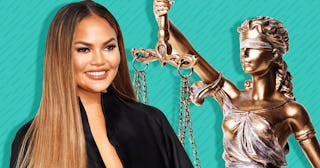 ANGELA WEISS/grinvalds/Getty and Scary Mommy
Chrissy Teigen is about to star in a Judge Judy-type series and it sounds amazing
It's the show that we didn't know we wanted but now desperately need. Chrissy Teigen is starring in a new reality series called Chrissy's Court, and it revolves around her judging small claims court cases. All of the disputes will be totally legit and Teigen's ruling will be binding. Things are about to get very real and very petty.
The show is set to run on Quibi, a mobile video subscription service, and each episode will be less than ten minutes long, according to Variety. Teigen broke the news on Twitter writing: "LADIES AND GENTLEMAN, SMALL CLAIMS COURT JUST GOT A LITTLE MORE PETTY." She also opened the door for prospective plaintiffs and defendants to get in on the action.
"If you're mad about some petty ass shit and wanna take that person to court, you let us know," Teigen wrote.
Teigen's mom, Vilailuck "Pepper Thai" Teigen, will be coming on-board to make sure that there's order in the court, damnit. "My mom is the bailiff and I cannot wait for her to say; HEY YOU TALK TO THE JUDGE NOT EACH OTHER' and basically take selfies the entire time," Teigen quipped on Twitter.
If you don't get why having Pepper Thai on the show is a really, really good thing, you haven't been keeping up with Teigen's Instagram presence.
This definitely isn't the only time that Teigen is coming to a screen near you. She also inked a two-year development deal with Hulu, which includes hosting a cooking show, tentatively called "Family Style."
And there's a whole lot more where that comes from.
"Chrissy personifies the Hulu brand through her outspoken, passionate, authentic nature. Whether it's her love of food, witty social media commentary, activism for social injustice and women's rights, fans know Chrissy always tells it like it is," the streaming service said in a statement. "Now, under a new pact, Chrissy and her production company, Suit & Thai Productions, will curate and produce original content, which could range from scripted drama series to original talk shows. The Hulu platform is Chrissy's oyster."
Bring on allllll of the yummy food porn.
Here's to a brand new era of streaming services filled with Chrissy Teigen. We could all use it.