Chrissy Teigen Crowd Sources Bananas From Twitter And It's So Entertaining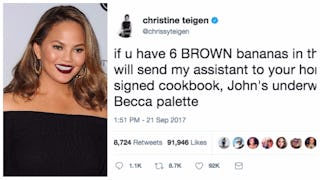 Image via Jason LaVeris/Getty Images/ Twitter
Chrissy Teigen crowd sources six ripe bananas from Twitter
What do you do when you want to make a perfect banana bread but none of your bananas are ripe? If you're Chrissy Teigen, you turn to Twitter to try to make the bananas appear — and entice fans with a contest of sorts.
"If u have 6 BROWN bananas in the LA area, I will send my assistant to your home with a signed cookbook, John's underwear and a Becca palette."
Not sure about John's underwear, but the recipes in her cookbook look amazing, and who doesn't need a new makeup palette for a nice, fall glow? Twitter was all over this.
Twitter mobilized quick and responded to the contest. Lots of people really wanted that underwear. Or cookbook. Or make-up palette. And it was very entertaining.
https://twitter.com/jetpack/status/910925862328877056
https://twitter.com/jetpack/status/910925649291788288
Even celebrities got in on the action. OITNB's Ruby Rose was quick to respond:
https://twitter.com/jetpack/status/910930455456751616
All good things come to an end, and when she finally got six perfectly ripe bananas, Teigen's "assistant" delivered the goods — as promised.
Yes, her "assistant" was her mom.
Plot twist — six bananas wasn't enough.
She turned to DJ Jake Updegraff (@onairjake) to see if his were still available.
And of course, there was a reveal. Only ripe bananas make a good banana bread. Everyone knows that.
Sorry, nothing will be more entertaining than this today.