Chrissy Teigen's IVF Tale Proves You Never Know What A Woman Is Going Through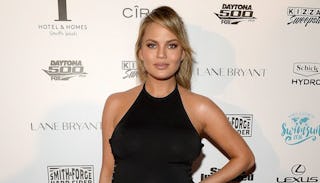 Sports Illustrated model Chrissy Teigen revealed intimate details of her struggle with infertility.
Chrissy Teigen is expecting her first child in April, but her path to motherhood hasn't been an easy one. The Sports Illustrated model recently spoke with People magazine and let them in on some of the more difficult parts of her struggle to get pregnant, including that she was carrying on fertility treatments even while shooting her swimsuit photos.
At the Sports Illustrated "Swim Beach" fan event in Miami, Teigen told People her feature in the magazine may look flawless and gorgeous, but they actually had to do a lot to hide the marks and side effects caused by her in vitro fertilization (IVF) treatments. She said:
"I was doing IVF during the shoot. I was getting my shots and everything in Zanzibar, I had a little medical kit. It was hard because you bloat from it, and you bruise — if I hit the wrong area. That's the kind of things we had to cover with makeup."
The photo marks her seventh appearance in Sports Illustrated, and she's basically nude in it, save for a sparkly bikini bottom and 'Zanzibar" written above her pubic area. Looking at it, Teigen appears completely flawless and you'd never be able to tell she had bruising, bloat, or anything else at all going on.
Despite the magic of make-up and Photoshop, IVF is hard on your body. Women who opt for IVF have to get injected with hormones so they produce multiple eggs during each cycle. They're then tested to see if their eggs are ready for retrieval and given injections of medication to "ripen" the developing eggs. From there, eggs are retrieved and fertilized — a process which can take days — and then one or more fertilized eggs is implanted into the woman's uterus, and it's a waiting game to find out if the procedure was successful.
The process can take months and even years, and of course comes with a lot of physical and emotional strife. Teigen has been more open than most about her struggles with infertility, and it's really important that she chooses to speak so candidly about trying to conceive. In her pregnancy announcement four months ago, she revealed that she and husband John Legend had been trying for a "very long time" to have a baby and are so excited it's "finally" happening.
Soon after that, she appeared on Tyra Banks' now-defunct talkshow, FABLife, and talked about how insanely insensitive it is when people ask a woman why she doesn't have kids. She told Tyra:
"We would have had kids five, six years ago if it'd happened. But my gosh, it's been a process! Anytime somebody asks me if I'm going to have kids, I'm like, 'One day, you're going to ask that to the wrong girl who's really struggling, and it's going to be really hurtful to them. And I hate that. So, I hate it. Stop asking me!'"
What Teigen really revealed in sharing those details about her Sports Illustrated photoshoot is that she was the one of those struggling women. Sure, she was still working and making public appearances and living her normal life, but she was also going through a process full of uncertainty, emotional ups and downs, and physical demands. That's the reality of infertility and IVF — women and their partners are fighting difficult battles that the rest of the world knows nothing about.
It's important that Teigen acknowledges those struggles, not only because it lets so many others out there know they aren't alone, but also because it reminds everyone else to practice sensitivity and kindness. Infertility is an intensely personal struggle that can happen to anyone, and you never know what's going on "behind the scenes" in someone else's life.