Chrissy Teigen's Friends Donate Blood In Her Son's Memory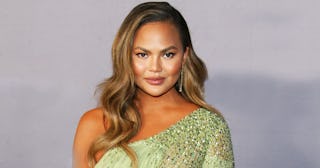 BAPTISTE LACROIX/AFP/Getty
Chrissy Teigen shared on Instagram that several of her friends donated blood in honor of her son
After a long break from social media following a devastating pregnancy loss, Chrissy Teigen has started posting again, sharing intimate details about saying goodbye to her baby boy and slowly getting back to her old self. Last night, she posted a sweet shoutout to friends who honored baby Jack's memory in the sweetest way — and I won't blame you if you need to find the tissues after seeing it.
"Ok, I tried writing this 4 times but the tears were too much," Teigen writes. "Here we go again, with my heart full of warmth and happiness."
The model and cookbook author shared that seven of her friends, led by Kimmie Kyees, a celebrity manicurist, united to donate a pint of blood each, one for each of the seven pints Teigen received in the hospital "in honor of baby Jack."
"Phewwwww the tears," says Teigen. "I'm overwhelmed by our circle of friends. The love I feel for each and every person in our circle actually makes me ache. @kimmiekyees, I've known you for so many years now. You know every story, you hear every life gripe, you're amazing at what you do but the way you treat my kids and family is cherished always. To do something like this for baby jack is just…I dunno. Beautiful."
Teigen also used her post about the sweet gesture to draw attention to the current need for blood donors. She says Kyees shared that she "was told by the volunteers that donations were severely down because high schoolers are responsible for so much of the blood donated. Usually they'd get a coupon for an ice cream cone or a movie ticket, but without school in session, donations are down. I have a lot of friends who normally would donate from a special day at work, but alas, no work."
Teigen recently broke her long social media silence after losing little Jack due to complications with her placenta to share what the recent weeks of grieving that loss were like. "I find myself randomly crying, thinking about how happy I am to have two insanely wonderful little toddlers who fill this house with love. I smother them with love while they 'Moooooooom!!!!!' me. I don't care," she says.
"Jack will always be loved, explained to our kids as existing in the wind and trees and the butterflies they see," she says. "Thank you so much to every single person who has had us in their thoughts or gone as far as to send us your love and stories. We are so incredibly lucky."