Chrissy Teigen's Reaction To Hillary Clinton Sharing Her Essay Is Peak Chrissy Teigen
by Julie Scagell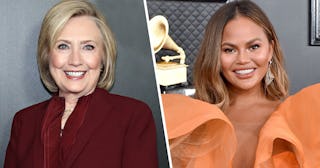 Cindy Ord/WireImage/Axelle/Bauer-Griffin/Getty
Clinton shared Teigen's powerful essay, calling out her bravery
Chrissy Teigen returned to social media this week after time away to mourn her tragic pregnancy loss. She shared a heart wrenching account via Medium of despair, hope, thankfulness in the days and weeks since losing son Jack, and it was shared by none other than one of her idols, Hillary Clinton.
Clinton shared Teigen's essay on Twitter Wednesday, saying, "Thank you, @chrissyteigen, for your bravery and grace in starting a hard conversation to help other families heal alongside yours." The mom-of-two replied in typical Teigen fashion, hilariously on point after sharing a video her watching Clinton at the "Glamour Woman of the Year Awards."
"oh my god Hillary Clinton just tweeted my essay now I have to delete the stupid videos I just posted oh my god please dont look at them Hillary Clinton," Teigen wrote on Twitter.
She also expressed in another tweet how "honored" she was that the former Secretary of State shared her words with the world. "I'm so honored @hillaryclinton. You have dedicated your life to fighting for women's and children's health, so to have you share my piece about my experience means the absolute world to me. Wow. Wow," Teigen wrote.
In her heartbreaking essay, Teigen talked about the night they lost Jack and addressed the photos she shared, which were criticized by some as inappropriate. "I cannot express how little I care that you hate the photos," Teigen wrote. "How little I care that it's something you wouldn't have done. I lived it, I chose to do it, and more than anything, these photos aren't for anyone but the people who have lived this or are curious enough to wonder what something like this is like. These photos are only for the people who need them. The thoughts of others do not matter to me."
She also explained that she and husband John Legend will never forgot the brief time they got to hold their son and that they will share those memories with daughter Luna and son Miles when they are old enough to comprehend what happened.
"Jack will always be loved, explained to our kids as existing in the wind and trees and the butterflies they see," she wrote. "Thank you so much to every single person who has had us in their thoughts or gone as far as to send us your love and stories. We are so incredibly lucky."
We're glad Teigen and her family have taken time to heal and grieve and we're even more grateful she was brave enough to share her experience with the world, helping more women than she'll ever know. We're also glad she's back because it's just not the same without her.