Chrissy Teigen Destroys Tabloid After They Post Rumors Of Her 'Split'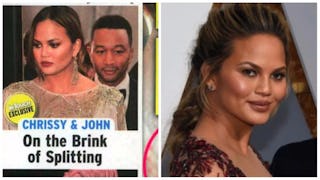 Image via Instagram/Ethan Miller/Getty Images
Lord help any tabloid magazine that tries to come for Chrissy Teigen.
We thought tabloids would know better than to go after Chrissy Teigen at this point, but apparently InTouch magazine decided to learn the hard way that you don't mess with Ms. Teigen.
The magazine's most recent issue slapped a photo of Teigen on the cover, decrying her and husband John Legend's impending "split."
Naturally, this did not go over well.
Obviously, tabloids like InTouch write up garbage just like this on the regular, because that's just what they do. Which, honestly, is so stupid in the day and age of social media where celebrities are practically their own publicists and can set the record straight in real time.
Even more stupid? The "story" comes during the same week Teigen and Legend are celebrating their fourth wedding anniversary.
Yeah. That surely looks like a couple "on the brink" of a split to us. *Eye Roll*
Look, no marriage is perfect. And celebrity couples break up every day. But for a couple as open and candid as these two are about their lives together, we're pretty sure InTouch doesn't have an "exclusive" on any such story.
We love Chrissy Teigen for so many reasons, but mostly for the way she shuts down trolls when it comes to motherhood. She and Legend are parents to toddler Luna (aka one of the most adorable children on the face of the earth), and Teigen does not play when it comes to strangers on the internet taking it upon themselves to critique the way she holds her child. Or the way Luna was conceived. Or for enjoying a much-needed date night.
See what we mean? Who in their right mind would go after Chrissy Teigen? She wins every time.
This article was originally published on