Chrissy Teigen And Pals Troll John Legend In 'Sexiest Man Alive' Pajamas
by Julie Scagell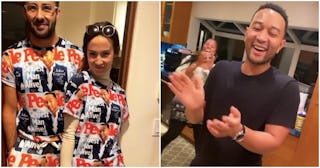 Instagram/Chrissy Teigen
Chrissy Teigen surprised her hubby on Thanksgiving by wearing "sexiest" PJs in his honor
As most people know, this year People named John Legend "Sexiest Man Alive" for 2019. His pal on The Voice (and former SMA himself), Blake Shelton, delivered the good news via a pair of bedazzled shorts with EGOTSMA on the backside, spelling out his latest accomplishment — winning an Emmy, Grammy, Oscar, and Tony award — and now, a Sexiest Man Alive award. Though Shelton isn't the only one getting in on the fun via clothing — Chrissy Teigen and some pals also surprised Legend over the weekend by wearing Legend's People cover as pajamas.
Two of Teigen and Legend's friends surprised the couple by showing up to Thanksgiving dinner in matching "Sexiest Man Alive" pajamas, plus an extra pair for Teigen.
Naturally, Teigen documented her husband's reaction when the pals showed up in PJs with his face on it.
Teigen has been shamelessly teasing her husband and letting the world know just how proud she is of his title with tweets like, "My secret is out. I have fulfilled my dream of having boned @people's sexiest man alive!! an honor!!!!!" and "the sexiest man alive is making me a ham sandwich."
The 40-year-old music superstar, Voice coach, and all-around fabulous guy is so deserving of the honor because there's nothing sexier than a confident man devoted to his family who doesn't seem to take himself too seriously (and who serenades himself while drunk every once in a while). If he ever gets a big head about it, he always has Teigen to burst his bubble (in the most loving way possible).
Shortly after receiving the award, Legend tweeted a side-by-side picture of himself from 1995 next to 2018's winner, Idris Elba, writing: "1995 John would be very perplexed to be following 2018 @IdrisElba as #SexiestManAlive. Hell, 2019 John is about as equally perplexed."
Of course, Teigen was quick to jump on the joke, tweeting a pic of Elba circa 1995 showing he was basically born gorgeous and never went through an awkward phase — ever.
While being interviewed for the issue, Legend also talked about his wife, whom he married in 2013, saying "She always looks amazing. And I get to stand next to her a lot and I don't want to be a huge letdown… so I try to dress well enough to be worthy of being next to my wife."
Now he has some pretty fancy pajamas to wear if he's ever short of an outfit and also wants to remind everyone just how important he is. It's anyone's guess who made the amazing custom jammies for the group but they are truly the stuff of legends (pun intended).