Chrissy Teigen And John Legend Are Instagramming Their Family Trip Around London
by Valerie Williams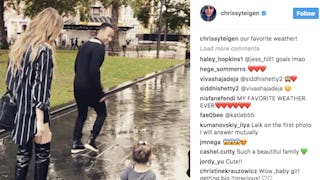 Image via Instagram
Chrissy took Luna to London to visit John on his European tour
Hollywood's cutest family has taken their show on the road and is using Instagram to include us on the fun. Chrissy Teigen, husband John Legend, and their ridiculously precious toddler are documenting their time in London — and it's freaking adorable.
Chrissy and daughter Luna flew to the UK this week to meet up with John while he continues the European leg of his Darkness and Light tour. The enviably perfect fam is clearly taking advantage of the opportunity to see the world together while Legend completes his run of shows, and little Luna with her ladybug suitcase on wheels is only the beginning of the cuteness.
It's hard to imagine anything more adorable than tiny Luna Legend alongside Chrissy (aka, our mom BFF) toting along her most important toddler items in her very own suitcase. That is, until you see her puddle jumping in the streets of London with both parents.
Teigen captioned the snap "Our favorite weather," and though we tend to prefer sunshine while out and about with whiny kids who don't like getting wet, this happy family in their chic shades of black and gray has us understanding where she's coming from.
But Luna is a toddler, no matter how fashionable she is tromping through the streets of London, and toddlers do what they want — including being pissy in a gorgeous hotel room while surrounded by several mouth-watering breakfast choices.
"Today's mood: cannot be pleased," Teigen writes. And leave it to a baby to find a way to not enjoy this room service situation.
Maybe Luna just prefers going out for her meals instead of having them delivered to the comfort of her mom's luxe accommodations, because she looks happy AF as the family heads to the swank The Ivy London for shepard's pie.
We're not sure how long Chrissy and Luna will be in London, but we're hoping for way more fun photos we can ogle. Might we suggest a selfie with Prince George and Princess Charlotte? Just a thought. No biggie if you can't make it happen, Chrissy.