Chrissy Teigen And John Legend Lose Baby After Pregnancy Complications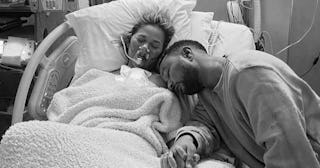 Instagram/Chrissy Teigen
Chrissy Teigen and John Legend lost their third child after a complicated pregnancy
Because 2020 is absolutely relentless, we wake today to the horrible news that Chrissy Teigen and John Legend lost their third baby after a hospital stay resulting from bleeding that couldn't be controlled. Teigen has been updating fans throughout her pregnancy and after a few weeks of bleeding on and off, she entered the hospital. During the night, she posted the heartbreaking update that she and Legend had to say goodbye to their little boy who they named Jack.
"We are shocked and in the kind of deep pain you only hear about, the kind of pain we've never felt before," she writes. "We were never able to stop the bleeding and give our baby the fluids he needed, despite bags and bags of blood transfusions. It just wasn't enough."
Teigen's message is accompanied by a series of black and white photos that indicate she had to give birth. In recent tweets, she said she was close to halfway through her pregnancy.
"We never decide on our babies' names until the last possible moment after they're born, just before we leave the hospital," she shares. "But we, for some reason, had started to call this little guy in my belly Jack. So he will always be Jack to us. Jack worked so hard to be a part of our little family, and he will be, forever."
Teigen penned a heart-wrenching apology to their little boy. "To our Jack – I'm so sorry that the first few moments of your life were met with so many complications, that we couldn't give you the home you needed to survive. We will always love you."
The model and cookbook author had been updating fans on her pregnancy and explained last week after being hospitalized for uncontrolled bleeding that it was her placenta causing the issues and their little boy was otherwise healthy. "In the simplest of terms, we can say my placenta is really, really weak. I feel really good, the baby is so healthy, growing stronger than Luna or Miles. He moves a lot, he moves so much earlier than they ever did," she said. "He is the strongest, coolest dude in the shittiest house. His house is just falling apart, it didn't have a good foundation to begin with."
This week, she shared in an Instagram post that she needed blood transfusions but assured fans she and the baby were doing well. "Baby and I are completely fine, just missing the little things like walking… cooking… playing with the other buttbutts. came across this little gem from ringing in 2020. It all makes sense now!"
Teigen thanked everyone for sending thoughts and prayers throughout her hospital stay. "We feel all of your love and truly appreciate you."
"We are so grateful for the life we have, for our wonderful babies Luna and Miles, for all the amazing things we've been able to experience," she writes. "But everyday can't be full of sunshine. On this darkest of days, we will grieve, we will cry our eyes out. But we will hug and love each other harder and get through it."
Our most heartfelt condolences to the Teigen-Legend family.