Chrissy Teigen Talks About Her Postpartum Sex Life And It's Relatable AF
by Thea Glassman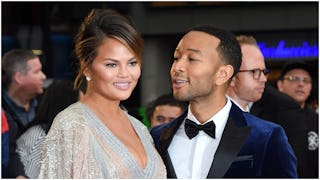 Image via Karwai Tang/Getty
Chrissy Teigen opened up about her post-pregnancy sex life with John Legend
Chrissy Teigen is refreshingly honest about pretty much everything. Seriously, just scroll back through her social media feed and you will find photo tributes to her stretch marks (cue all of us feeling a little bit better about our stretch marks). Now, she's opening up about her sex life post-pregnancy and getting very real about the changes that happen in the bedroom.
Teigen told Women's Health that parents shouldn't feel bad if their sex lives have taken a dip since having kids. "It doesn't matter who you are – even if you're a sexy R&B crooner or an ex-swimsuit model, you're just tired!" she said. "We still have that passion for each other, but are we doing it randomly in a dressing room? No!"
It has to make the average parents feel better to know that even a couple as hot as John and Chrissy has trouble getting things started after having a baby. It doesn't matter how gorgeous and rich and famous you are — postpartum sex can be a tricky thing to navigate. And sleep is usually a far more attractive evening activity for adults living with a newborn.
She did add that there's usually a surefire way to get her going. "If he performs somewhere, and I go, I'm like, 'Oh, he's sexy.' We'll probably have sex that night," Teigen said.
Yup, definitely fair enough.
Also, though, can you please name one celebrity couple who is having more fun than Chrissy Teigen and John Legend? I'll wait.
Teigen also opened up about the changes that she's seen in her body after giving birth with, once again, a ridiculously refreshing amount of honesty.
"I look at my boobs and I'm like, What the heck happened? They face outwards now," she said. "They're like giant disks. I don't even know how to hide them. I forget that people are still like, 'Whoa!' And I don't mean to shove my boob in their faces."
She's also felt an important shift when it comes to her body image, as well. Ever since she was 20 years old, Teigen thought she had to be a certain weight. Now, she's reevaluating.
"I've been so used to that number for 10 years now," she noted. "And then I started realizing it was a swimsuit-model weight. There's a very big difference between wanting to be that kind of fit and wanting to be happy-fit."
Here's to so many more moments of Teigen making all of us feel a little less alone. We couldn't ask for a better internet best friend.
This article was originally published on