Chrissy Teigen Shared A Duet of John And Miles And It's Love In Video Form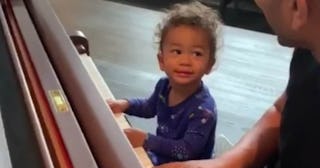 Chrissy Teigen/Instagram
Miles might just have inherited the music gene
Ohhh, Chrissy Teigen. Thank you for existing, being hilarious and awesome all the time, and perhaps most importantly (for our sakes) continuing to share your adorable family's sweet moments with us. She's always dropping little gems of amazing but the video she just posted of John and her son, Miles, playing piano while John serenades him with the song Favorite Things is a thin slice of heaven.
Have a look for yourselves.
Those looks little Miles gives his dad are crazy cute. Of course, John's voice sounds beautiful, as always. Plus, Miles is not doing too bad of a job on the keys himself! Chrissy loved the sweet moment between father and son and captured the image "stop everything." Oh, we certainly will, Chrissy.
How many times have you watched it? Four? Five? 14? Same. Same.
Chrissy always brings the goods from the uber cute to the hilarity. Like this recent picture she shared of herself all dressed up with a possum head on. Apparently, she did not remember this incident. LOLz for days.
The cute is never far away, though. It's basically a blessing to get to watch these kids doing all the things they do. Like Luna putting together epic outfits of the day.
And Miles just doing his thing.
Don't get me wrong. We totally understand why some celebs like to keep their kids off of social media altogether. However, these cuties really deserve the spotlight.
https://www.instagram.com/p/B1vpOPnhWm6/
What's great about Chrissy's social media is that she's always real and relatable. In addition to the sweet pics, she's a genuinely real person and we love her for it. How do we know? Because she doesn't just share the pretty, perfect moments. She shares, well, just about everything from admitting she relies on a village, to being late to school to this ridiculous boob slip.
Keep it comin', Chrissy.