Here's A First Look At Chrissy Teigen's New Target Line
by Valerie Williams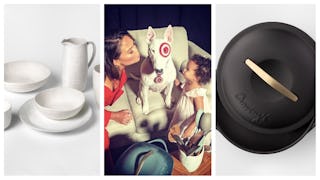 Image via Target
Chrissy Teigen's debuting a kitchenware collection at Target this month
There's a few things we as moms can agree on and one of them is that Target is our mothership. Another is that Chrissy Teigen is the realest celebrity mom out there, and now, the two are combining and we're legit excited.
That's right — Chrissy and Target are coming together with a new line of kitchen and tabletop items all sanctioned by the ultra stylish foodie herself. Teigen, the author of two cookbooks, now has her very own kitchen gear that will be available at the big red bullseye on September 30. AKA, not soon enough — because look at this stuff.
She announced the line yesterday and she looks just a little bit excited. Honestly, can anyone blame her? A namesake line of merchandise at Target is basically mom goals.
A press release from Target tells us more. "The collection features all of the essentials that Chrissy uses to prep, cook and serve up her favorite recipes—think do-it-all cast iron Dutch ovens and must-have serve ware — plus items like cutlery, glassware and pitchers that are perfect for entertaining family and friends in A-list style."
And so you can make delicious recipes like this from Teigen's new cookbook, Cravings: Hungry for More. Of course, Target has an exclusive edition of the book coming out both online and in stores on September 18th.
There are over 40 items in the collection with prices ranging from $4 for drinkware (which is cheap enough for my frequent dropping of glasses) and $140 for a 12-piece cookware set, which is an insanely good bargain. Luna is clearly here for it.
Did I mention how pretty it all is?
Because it really is.
"We have a great relationship with Chrissy and have worked with her in a number of ways over the years—from her first modeling job being in a Target catalog, to her starring in our 2016 holiday campaign. When we learned she was launching her own kitchen and tabletop line, we both knew it would be right at home at Target," said Mark Tritton, executive vice president and chief merchandising officer, Target. "We know our guests will be excited to see Chrissy branch out with the launch of her new collection, and we are thrilled to be the exclusive retailer for Cravings by Chrissy Teigen."
Already camping outside my local store so I can be first in line to buy literally everything.
Teigen explains why she decided to create her very own line of cookware. "I've always wanted people to love what they've cooked from my books. Creating a collection was a natural extension of my passion for food, and I am so excited for everyone to be proud of and truly love their kitchen and tools."
She also shares that there's a chance we may see her on one of our random trips to Target to stock up on the essentials — and maybe a cameo from Luna or Miles too. "Our daughter, Luna, is a once-a-week Target shopper. Sometimes she is recognized in the store before we are! She's at such a fun age right now. We like to crawl in the tents on display and guess prices on items like a gameshow. Luna thinks anything and everything is three dollars. Miles has yet to go on his first Target adventure, but we will definitely be popping into random Targets across the country when we hit the road for John's tour!"
I'll be there, gleam in my eye and credit card in hand.