Chrissy Teigen Is Every Mom Trying To Decide On The First Halloween Costume
by Jerriann Sullivan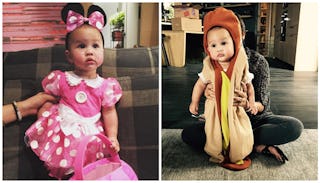 Images via Instagram.
Chrissy Teigen dressed baby Luna up in eight adorable costumes because who can choose?
Even if Halloween isn't your favorite holiday, you have to admit that kids look adorable dressed up in their favorite costumes – especially the babies. So it's not surprising that new mom Chrissy Teigen had a hard time picking just one cute costume for baby Luna's first Halloween. All moms have been there.
Thankfully Teigen loves sharing candid moments online, so we didn't miss any of the fun that eight Halloween costumes brings. The display of amazing fits started last week with this hilarious picture of Luna, who's clearly already over the whole thing.
She's definitely thinking "why me?" Personally, I'm a huge fan of the next costume, but babies can't fully support their own weight let alone that of a fancy headdress. Luna does not look impressed with this choice.
In this next one, Minnie Mouse is a contender and Teigen realizes she may have gone overboard with the costumes.
This one could be a contender because it's simple and cute. Baby Luna looks like she realized her mom is no where near done with the Halloween costumes.
Awww. This Little Red Riding Hood getup is perfect. Thankfully for Luna, she's realized that if she gives her mama the right look she'll be taken out of the costumes she's not feeling. Her raised eyebrows say all Teigen needs to hear: nope.
We think that this is another Minnie costume, because of the black bow. It's hard to tell, though, because it's not terribly detailed. As Teigen said, not enough flair. Moving on because yes, of course there are more.
"Grease" fans will love this one. The Pink Ladies were a group of awesome gals, but Luna has her own running crew of amazing women, so she'll probably pass on this fit, too.
Teigen saved the best for last. The hula girl costume came with an entire beach scene for baby Luna. What kid wouldn't want the outfit that came with toys? Plus, it's a pretty a great costume.
That first Halloween! The time when our kids didn't have interests yet, so we could do whatever the heck we want! Aww, you know parents of older kids are missing that. How did you dress up your babies for their first Halloween? Share your throwback Halloween pics with us in the comments.
[free_ebook]
This article was originally published on