Chrissy Teigen Asks For 'Mean Kid' Stories And Twitter Delivers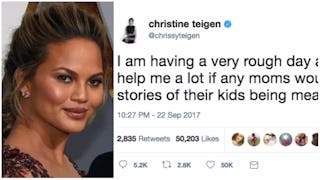 Image via Ethan Miller/Getty Images/Twitter
Some of these responses will make you LOL and say "This is me"
What did we do on the internet before Chrissy Teigen? Seriously. Since she became mom to one-and-a-half-year-old Luna, her Twitter account has kept moms everywhere entertained and feeling united.
Last night she took to Twitter to admit she was having a rough day (because toddlers) and asked for everyone to share their own "mean kid" stories after a particularly hard day of momming.
And boy oh boy, did Twitter deliver.
Oh my God. We're snorting. SNORTING.
https://twitter.com/jetpack/status/911419817655246848
See? Toddlers don't care who you are. They don't care that you're their mom, and you spend approximately 3490583049 hours per day nurturing them with a fierce amount of love. If we dare request a little love in return, *bap.* Face smack.
https://twitter.com/jetpack/status/911417163189276677
Savage.
https://twitter.com/jetpack/status/911417879462998016
https://twitter.com/jetpack/status/911418111575842816
In case you ever needed a heaping dose of reality, your kids will let you know about yourself better than anyone else.
Oh hey there, Patricia Arquette.
You hear that, everyone? MOTHERS ARE CANCELLED.
All moms should just wear paper bags over their heads around their kids, apparently.
OK, that might be our favorite one.
When it comes to excellent online content, Teigen always provides. Earlier this week she was crowdsourcing Twitter for brown bananas to make banana bread, and kept us entertained for almost an entire day. She shuts down trolls better than anyone, and she's not afraid to take on anything from Donald Trump to her struggles with alcohol.
That's our favorite thing about her: sure, she's beautiful and wealthy and famous, but at the end of the day she's a mom. She's a mom who deals with the same shit we all deal with. Except she's goddamn hilarious and we love her for it.
This article was originally published on