Chrissy Teigen Shares Adorable Video Of Son Miles 'Voting'
by Julie Scagell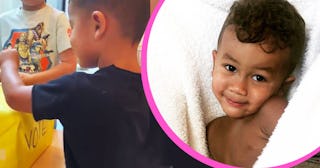 Chrissy Teigen/Twitter
Miles cast his very important ballot in this election
Just when you thought Chrissy Teigen and John Legend's son Miles Theodore couldn't get any cuter, Teigen shared a video of him "voting" — and apparently he can, in fact, get cuter.
Two-year-old Miles is exercising his right to fake vote in this year's election, which makes him ready for action come 2036. "From earlier today. I voted!" Teigen wrote in a tweet sharing the adorable video. In the footage, Miles can be heard yelling, "I voted!" as he drops a slip of paper into his yellow ballot box with the word "VOTE" on the front.
In typical Teigen fashion, Chrissy's been extremely vocal about her dislike of President Donald Trump and was actively supporting presidential candidate (and hopefully by end of day President-Elect) Joe Biden. She shared video on Instagram of her and the family in Philadelphia.
"I had no idea what to do but it was an honor to be able to support Kamala and Joe in Philly. HI EVERYONE. Here we go," she wrote. "Remember to breathe and look at puppy photos every once in a while. It's gonna be a long night."
She also shared video earlier this week of herself and daughter, Luna Simone, getting into the election night spirit. Luna was pretending to be a news anchor with her mom in a video watching the early election results between Trump and former Vice President Biden on Tuesday.
"Hello, I'm Chrissy Teigen," Teigen said before Luna piped in, "And I'm Luna, and I'm in the news."
"And we are in the news. So Luna, what's the news today?" Teigen asked her daughter, who responded, "Nothing!" Who knew how true that would be now that we're three days in with no outcome.
"Nothing is in the news," Teigen said as Legend laughed from behind the camera. "What should we talk about?"
"Nothing!" Luna said again.
"Nothing! Thanks for watching!" Teigen said before the pair signed off.
But let's get back to Miles for a moment.
Teigen also shared a picture of her gorgeous boy on Instagram a few days ago of Miles with an ear-to-ear grin. "Nooooo noooo too maaaaach cute too machhhh!!!!" she wrote. She's not wrong.
Hopefully, Teigen continues to share All Of Her Thoughts about the election, her kids, and anything involving her kids and the election. This is the sort of distraction we all need right now.