Chrissy Teigen Posts Pic Of Herself Because She's A Mom And No One Else Will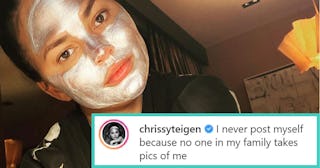 Chrissy Teigen/Instagram
Once again, Chrissy Teigen proves she is the most relatable celeb mom of all time
Time and again, supermodel, cookbook author, wife of the Sexiest Man Alive, and overall badass Chrissy Teigen has proven to be the most relatable celebrity mom on the internet. Despite the fact that her life is a billion times more glamorous than most of ours, she totally feels our pain when it comes to everything parenting related — from the fact that her sex life has been negatively impacted since having kids to how how her kids give her crap for being one minute late to school pickup. In her latest celebrity-moms-are-just-like-us moment, Teigen reveals why her Instagram account is filled mostly with photos of John and the kids, sprinkled with the occasional selfie, and it's relatable AF.
"I never post myself because no one in my family takes pics of me," she captioned a selfie. In the pic her gorgeous face was covered in her favorite $25 GlamGlow Gravity Mud Firming Treatment, a silver metallic mask she explained in an accompanying Instagram story that she was "obsessed with," adding that it was "not an ad."
But back to the fact that nobody ever takes photos of her. Um, yeah we feel that too, girl. Most moms, unless they are influencers, are the ones taking all the photos of everyone else. And it totally isn't fair.
This isn't the first time Teigen has brought up the fact that moms get totally shafted in photos. Over the summer she majorly lamented it on Instagram, explaining that its there is also a quality control issue behind moms not appearing in many photos.
"I never have pictures of myself because I am selfless and am the designated photo taker and keeper for my family and no one else seems to care to be thoughtful and take good photos of me," she wrote. "They merely click them off without paying attention to angles or lighting or general photo ambience. but it's okay. such is the life I chose." Teigen signed the post with a hilarious, "To john."
SERIOUSLY. Does this woman speak the truth, or what?
At the time, Legend respond to the open letter with a simple "Wow." Meaning, he read it and acknowledged her rant. However, obviously he still isn't taking quality photos of her, or she wouldn't have gone there again. Maybe this time it will resonate.