Chrissy Teigen Was Mom-Shamed For Showing Cleavage In Front Of Her Daughter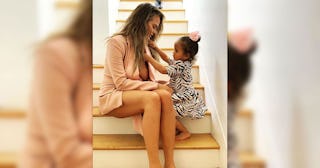 Chrissy Teigen/Instagram
The Queen of Clapbacks, Chrissy Teigen, strikes again. On Friday, Teigen posted a photo of herself and her 3-year-old daughter, Luna, seen wearing an adorable zebra-print dress and adjusting her mom's blush-hued blazer. "On set with my stylist," Teigen captioned the post.
It wasn't long, however, until people took issue with Teigen's choice of wardrobe. "Jesus cover up your daughter is right there," one user wrote. "Do you ever wear underwear?" asked another. And Instagram account Comments By Celebs were quick to point out the trolls and subsequent clapback à la Teigen.
"She sucked it for months and doesn't mind it much," Teigen responded to the former troll. Comments by Celebs also pointed out that that same troll changed their profile photo to that very image!
"There's no troll quite like the kind who changes their profile photo to the very picture they were trolling," Comments by Celebs wrote.
What a plot twist.
Come for Chrissy, and she'll clap right back – as she's proven time and time again. About one week ago, she expertly responded to another troll who criticized her for her household staff. "Grateful for people that make our dysfunctional house functional," Teigen captioned a group photo posted on Nov. 29 of her staff and her kids.
One user commented, "AKA 'thankful for my household staff of chefs and nannies," to which Teigen snarked back, "Literally just said that but you sure got me."
"Way to really hit her where it hurts, Sophia," Comments by Celebs captioned their own post.
In addition to Clapback Queen, Teigen reminds us frequently of her other title of Most Relatable Celeb Mom. Mere days ago, the cookbook author revealed why her Instagram account is mostly comprised of photos of husband John Legend and her kids.
"I never post myself because no one in my family takes pics of me," she captioned a selfie posted on Dec. 1.
And if that isn't the most relatable caption ever written, we don't know what is.