Chrissy Teigen Took Her Kid On A Slide And People Freaked Out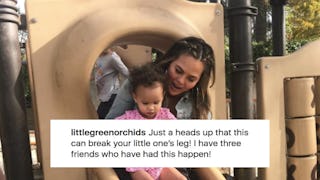 Image via Instagram
No one needs parenting advice when they are sharing a picture of their kid
Most parents post pictures of our kids on social media but rarely do we get as much heat over every single solitary thing we do, like celebrity moms — Chrissy Teigen in particular. Though she's used to the scrutiny of being a public personality and handles it all with wit and sarcasm, reminding mom-shamers she's not looking for advice on how to raise her kids. Or as her most recent picture shows, how to go down a slide without breaking her kid's leg.
Teigen posted an adorable picture on her Instagram page with the caption, "weeeee are very skeptical of slides right now." Unfortunately, the picture was taken when Luna was being lifted on to her mom's lap when the snap was taken which means one of her legs wasn't quite all the way up.
That's when all hell broke loose because people just can't seem to help but offer unsolicited parenting advice to total strangers:
Of course Teigen had the most epic come back because, well, she's Chrissy Teigen:
Teigen is no stranger to the public weighing in on her parenting decisions. She's been insulted by strangers from everything from not trying "naturally" to have a baby, going on a date too early after baby with her husband, John Legend, and her choice of clothing for her child. Each time the mom-to-be expertly reminds these folks that she's got it. She is choosing to share snippets of her family with the world, she's not asking how to raise her kid.
Wouldn't it be nice to live in a world where parents aren't second guessing every single decision we make? Where you could post a picture of your baby and people would just concentrate on how cute the picture is rather than everything we are doing wrong? There are so many armchair parents out there waiting to jump on celebrities and us regular moms alike, perhaps if we just supported one another and offered advice when asked, it would be a more pleasant experience for us all.
And while you can actually injure your kids going down a slide with them, and some of the moms commenting probably meant their comments to be a heartfelt warning, responding to someone's sweet picture may not be the right time or place.
Lucky for us we have moms like Teigen to remind us not to take ourselves (or other people) too seriously.
This article was originally published on