Chrissy Teigen Launches Campaign To Help Women Talk About PPD
by Valerie Williams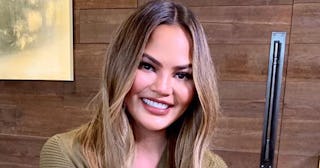 Chrissy Teigan via Instagram
Chrissy Teigen wants to start a dialogue among moms about postpartum depression and anxiety
We love Chrissy Teigen for approximately one million reasons, but mostly, because she keeps it real when it comes to motherhood. That includes being ultra open about her struggles with infertility, post-baby sex, and possibly most importantly, postpartum depression. Now, she's part of an initiative to help moms dealing with post-birth mental health issues like depression and anxiety to know they're not alone.
As part of her new partnership with Pittsburgh-based Allegheny Health Network (AHN), Teigen's hoping to open a dialogue among moms about postpartum depression and anxiety. In a press release provided to Scary Mommy, AHN notes that more than 500,000 – or one in seven – new moms developed postpartum depression, yet only 15 percent of them received treatment, according to the American Psychological Association. Teigen took to Instagram to tell her fans about #MyWishForMoms, a new hashtag created to help moms talk about what they're experiencing.
"It's Maternal Mental Health Month and I was just on the @TODAYshow with @savannahguthrieand @jennabhager to launch an initiative that's close to my heart. Join me and @AHNToday, and let's help all the moms who may be going through postpartum depression or anxiety. Post a picture that captures what it felt like having a new baby, and tell them what you wish you knew when you were going through it. Use the hashtag #MyWishforMoms. Imagine if we can get just as many people talking about postpartum depression as women who experience it each year — that's over 500,000 of us!" she writes.
The hashtag is already gaining traction on Instagram with hundreds of moms bravely opening up about what they're going through.
And that openness is exactly what Teigen was hoping for.
"When I was approached with this opportunity – to help be the voice for women experiencing postpartum depression and anxiety – I thought, 'this is perfect!'. I'm grateful to be able to use the platform that I've been given to reduce the stigma that many women feel when talking about these very real and treatable conditions," she says. "I wish I had known that postpartum depression can happen to anyone because I didn't think it could happen to me. Here I was, with my perfect little Luna and a supportive husband, yet I was truly struggling."
As part of launching the new program, Teigen talked to other moms who experienced postpartum mental health changes. She sat down with women who had received treatment at the AHN Women Alexis Joy D'Achille Center for Perinatal Mental Health.
"We have created a novel therapeutic environment that brings available resources to women and their families in an effort to help get them well, bond and grow together. We are so pleased to work with Chrissy, and commend her for being open about her own experience in order to help other families," said Sarah Homitsky, MD, a psychiatrist and Medical Director of Women's Behavioral Health at AHN.
The center is truly something special, and according to AHN, "one of only a few in the U.S. offering a variety of mother-baby treatments for pregnancy-related depression, anxiety and bipolar disorder under one roof." They care for moms' mental and physical health by providing yoga, meditation, group therapy, and mother-child bonding, while also helping them navigate new parenthood.
"My wish for moms is that they know they aren't alone, and they are supported by the more than 500,000 women who share their experience each year," Chrissy said. "Imagine if we can get as many people talking about postpartum depression and anxiety as those experiencing it, and let them know help is available."