Chrissy Teigen Delivers Hilarious Burn To Troll Who Scolded Her For Painting Luna's Nails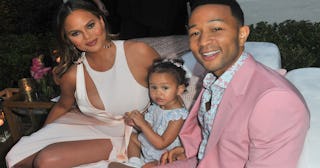 Getty/Jerod Harris
Of course, Teigen had an epic comeback because IT'S NAIL POLISH
Whenever a celebrity shares moments of their personal life on social media, there's always some Debby Downer waiting in the wings to ruin the sweet moment with their unsolicited opinions. If you're Chrissy Teigen, this happens on the daily because people clearly haven't learned that when you come for her, you'll be quickly sent packing. Such is the case of Brenda and her thoughts on nail polish.
The Lip Synch Battle star shared an adorable video of her chilling with daughter, Luna, watching a little Sesame Street over the weekend. "Doing her nails is my knitting," Teigen wrote. "Kid toes kill me!"
While 99.9 percent of people killed themselves over the sight of Luna's perfect little piggies, there was one woman who needed to make her voice known because if she didn't, oh if she didn't, she may implode from keeping her opinion to herself.
"Applying poisonous chemicals directly onto a child's body can not be good," one woman wrote. "Whatever poisons are in polish are absorbed through the nail and directly into their body."
https://twitter.com/jetpack/status/1142304450826182657
Jog on, Brenda.
Of course, the mom-of-two wasted no time calling this woman out because no one claps back quite like Chrissy Teigen:
Then added for effect, "well I actually had her drink it so joke's on you."
Of course, fans of Teigen also hopped in to make the entire situation even funnier:
Teigen has always been one to share pictures and stories of parenthood with her fans and we love her so much for it. It's no wonder the mom to Luna, three, and Miles, one with husband, John Legend, does — her family is freaking cuteness overload and she's so real about motherhood that it's impossible not to love her.
With that, however, come the internet trolls who cannot let a moment go by without sprinkling their negativity around like dandruff. Teigen has gotten heat over sharing breastfeeding photos, been insulted for not trying "naturally" to have a baby, going on a date too early after baby with her husband, and her choice of clothing for her child. Each time the mom-to-be expertly reminds these folks that she's got it. She is choosing to share snippets of her family with the world, she's not asking how to raise her kid.
Teigen clearly doesn't have time for haters. She's getting her own cooking show, has a line of products at Target, sells millions of cookbooks every year, and hosts the popular Lip Synch Battle on NBC. We do hope, albeit selfishly, that she continues to take a wee moment out of every day to come at the Brendas of the world. It's free entertainment for the rest of us and for that, we are thankful.
This article was originally published on