Chrissy Teigen's Advice For Moms Dealing With Postpartum Depression Is Spot On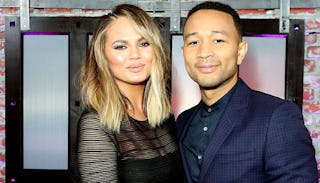 Image via Getty Images Entertainment/Rachel Murray
Chrissy Teigen offers words of encouragement to moms struggling with PPD
Chrissy Teigen and her husband John Legend celebrated daughter Luna's first birthday last week. While the no-longer-new parents celebrated the day with an epic cake (decorated by mom and dad, naturally) we're celebrating too, because Teigen's refreshing honesty about life as a mom is a gift to us all.
While Teigen has talked openly about her struggles with fertility and how much she wanted to become a mom, she's never tried to sugarcoat the hard parts of parenting. She speaks honestly about how breastfeeding isn't always a joyful bonding experience, and has been extremely open about her struggle with PPD.
It's fantastic to see someone with such a large platform shed a light on a condition that so many women suffer though in silence. Now that she's getting treatment for her PPD, Teigen is back with some words of advice for those women who may feel like things are never going to get better.
"Just know that there's a light on the other side," she tells Refinery29. "When I was in the midst of everything, I could never imagine myself on the other side of it. Now, I'm able to look at September, October, November, December, and shake my head at how dark and crazy of a period it was. Unfortunately you can only really do that when you're out of it. There's no other way to explain it. And there's no better feeling than being out of it."
Not many people realize that PPD is something you live with, not something you necessarily have and get over, like a cold. You may get to a point when you feel like you're out of the woods, but it's still normal to have stretches when things get hard again. Teigen's daughter may be a year old now, but she's still being candid about how PPD impacts her life. She suggests trying to remember that these feelings won't last forever. "Of course, you have your good and bad days. I just had a bad day a couple days ago," she says."But the bad days do not outweigh the good days anymore. Just when you think it's really really bad, it's going to get better. So hopefully, if you're going through something tough you can find some peace in knowing that."
She say it helps to remember that when it comes to babies, change is the only constant. It's best to not get too cocky if your baby is having a period where they're sleeping like a champion or hasn't ruined an outfit in a while, because your luck is bound to change. But the same is true if your baby is having a difficult stretch. "[N]o matter what happens, no matter how uncomfortable or comfortable you get with a baby, remember that it all changes the next week. If you're feeling safe now, it's going to get a little crazier the next week. If you're feeling crazy now, it's going to get so much better the next week. It makes you prepared for anything."
We love Teigen for her razor sharp sense of humor and amazing recipes, but most of all because she's willing to be so vulnerable about the harder parts of being a parent. She's a world famous model with a seemingly perfect life, which is why we so appreciate her pulling back the curtain and sharing what she's really feeling. When you're dealing with PPD or just struggling with motherhood in general, it can mean everything to feel like you're not alone. Teigen's words of encouragement definitely help.
If you think you are experiencing postpartum depression, Postpartum Progress has resources to help you.