Chrissy Teigen Has Blessed Us With The Best Hospital Mesh Panty Photo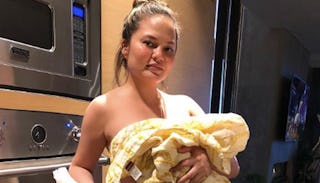 Image via Instagram/Chrissy Teigen
Chrissy Teigen nails postpartum reality in a mesh panty photo for the ages
As you're now likely aware, our fave celeb mom, Chrissy Teigen, gave birth to her second child late last week. But in true Chrissy fashion, she's already back to straight killing it on all social media platforms with her trademark honesty and humor. The latest dose is a hilariously real (and very Chrissy) peek into postpartum life that literally all moms will understand — the beauty of those hospital mesh panties.
Teigen shared five days ago that son Miles Theodore Stephens was born, so that means for the next few weeks, she will still be extremely fresh from the whole painful event. She's already let us know that at least this time, things are going slightly better than daughter Luna's birth, which, bless.
Of course, that doesn't mean that there won't be blood, because, hello. There will be blood. Which is why the disposable mesh panties the hospital gives new moms are simply required wardrobe staples during those first days postpartum. Teigen showed hers off in splendid fashion yesterday while also juggling her little guy. Relatable AF.
In the photo, Teigen's cuddling sweet Miles and possibly nursing him, but it's the gigantic mesh panties pulled up past her belly button that really take center stage. She's rocking the hell out of them and yes, they do pretty much feel like those thingies that cover pears.
Speaking of which, in her caption, Teigen gives a nod to hilarious comedian Ali Wong and her new Netflix special that centers on the joys of motherhood. In it, Wong refers to those glorious mesh panties as being "the same material that they package those fancy Korean pears in." You need to see Wong's comedy special. Trust me.
Anyway, back to Chrissy.
She shared the first photo of little Miles yesterday and our ovaries basically exploded.
But her mesh panty pic is truly the reason we love her — heartwarming adorableness followed by an immediate dose of reality that makes us not feel so alone in our post-baby haze.
Hopefully, Chrissy's resting comfortably in those stretchy little lifesavers while enjoying plenty of cuddle time with both of her babies.
This article was originally published on