Chrissy Teigen's Latest Pregnancy News Has People Losing Their Ever-Loving Minds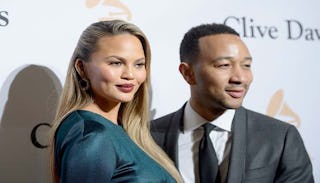 BEVERLY HILLS, CA - FEBRUARY 14: Model/TV personality Chrissy Teigen (L) and recording artist John Legend attend the 2016 Pre-GRAMMY Gala and Salute to Industry Icons honoring Irving Azoff at The Beverly Hilton Hotel on February 14, 2016 in Beverly Hills, California. (Photo by Kevork Djansezian/Getty Images)
Chrissy Teigen reveals she chose the sex of her unborn baby during IVF
Chrissy Teigen hasn't shied away from any discussions surrounding the impending arrival of her first child. The supermodel and her singer/songwriter husband John Legend have been a fixture in the parenting blogosphere since they announced their pregnancy in October. Today, some more news about Teigen's pregnancy surfaced. She told People magazine that the couple chose to have a girl when they were going through in-vitro fertilization.
"I've made this decision," Teigen told People. "Not only am I having a girl, but I picked the girl from her little embryo. I picked her and was like, 'Let's put in the girl.' "
"I think I was most excited and allured by the fact that John would be the best father to a little girl. That excited me," she explains. "It excited me to see … just the thought of seeing him with a little girl. I think he deserves a little girl. I think he deserves that bond. A boy will come along. We'll get there too, so it's not like we really have to pick. But he definitely is very lucky to have a little girl. And this girl is going to be so completely lucky to have John as her papa — it's crazy!"
Teigen has been open about her struggles with infertility, her experience with IVF, her parenting plans, and her feelings about unsolicited advice. It's not surprising that she would be open about this detail, too.
Whenever the idea of "choosing" the sex of a baby comes up, there are always very strong opinions. The reaction to her announcement has brought the usual onslaught of online commentary. There are those who think she should be "grateful no matter the sex of the baby." There are those who are making snide comments like, "must be nice to be able to cherry pick the child you exactly want." The reality is, IVF treatments are not a walk in the park. And there is a significant amount of genetic testing that happens. During all of that testing, couples can learn the sex of the embryo.
The internet is confused and pissed about this, if you look at the reactions floating around out there:
Are you serious woman? gosh I really hate when celebrities think they are God like what makes you think you can choose the sex of a child you wish to have?
She should be glad the child is healthy. What was she going to do if there was something wrong???? Since when do you pick what you want?
I don't agree with picking the sex of a child at all, it's unnatural …..maybe she should of just adopted, then the could of pick and chose what child they want.
There are many more where those came from. What's the problem? People have long been following wives' tales about sexual positions, diets, and other "tips" for conceiving the desired sex of their baby. Is the problem that parents are expressing a preference or that they can actually make that dream a reality?
Even some fertility clinics that offer the testing to determine gender have strange directives. One clinic offers "family balancing." Their "rules" dictate that they have the technology to determine the sex of your embryo, but they'll only let you use it if you already have one child, or if your family is "out of balance" — meaning more of one sex than the other. What kind of weird directive is this?
Science. It's allowed us to test for certain genetic abnormalities and in the process we've learned that we can also determine the sex. Choosing what to do with that information should be something that is totally left up to the parents. So Chrissy Teigen and John Legend wanted a girl and made that happen? So what? Good for them.
"I'm excited to see what he is going to do because I think we'll have two very different styles," Teigen told People. "I'm excited to see that part of John; We've been together so long, and sometimes we look at each other and we're like, 'I know everything about you and you know everything about me,' but we have no idea what we're going to be like as parents. I think it'll be really fun. I'm excited."
It is and exciting time. And eternal kudos to the couple for continuing to be honest about their journey to parenthood, even when they know a backlash is on the horizon.
This article was originally published on