Chrissy Teigen Just Shared The Ultimate Self Care Photo
by Thea Glassman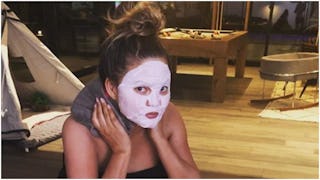 Image via Chrissy Teigen/Instagram
Chrissy Teigen just might make you want to steam your vagina
Chrissy Teigen is a lot of wonderful things. She's very funny on Twitter. She makes food that's extremely delicious and healthy. She's incredibly generous. She's an amazing and badass mom. She also knows a whole lot about multitasking self care, and proves that you can indeed wear a face mask, throw on a heating pad, and steam your vagina all in one sitting.
The supermodel/chef/TV host took to Instagram to share a picture of herself indulging all parts of her body.
"Face mask / heat pad / vagina steam no I don't know if any of this works but it can't hurt right? *vagina dissolves,*" Teigen wrote.
I can't say that I even really knew what a vagina steam was before seeing her Instagram post, but a quick Google search reveals that the process will "cleanse the vagina and uterus, regulate menstruation, and ease period cramps and bloating."
Yup, yup, yup. I could probably get into all that.
Part of the pure joy of Chrissy Teigen and her husband John Legend is how completely open they are. They don't just post those perfectly curated, super glossy, irritatingly perfect pictures on Instagram. Instead, we get stuff like Teigen pumping milk en route to dinner with Legend. Now, that's the kind of content I can get behind.
And then there was that time when Teigen posted a picture of herself making salad while pregnant and topless.
And then there was that other time when she took a picture of her legs and put her stretch marks on full display, making all of us breathe a collective sigh of relief about our own "stretchies."
Basically, the moral of this story is that Chrissy Teigen is everyone's internet best friend and we should all probably be steaming our vaginas right about now.