Chrissy Teigen Shuts Down Trolls For Shaming Her Breastfeeding Photo
by Cassandra Stone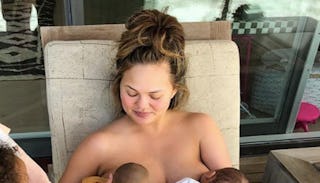 Image via Instagram/Chrissy Teigen
Don't trolls know by now that coming for Chrissy Teigen is a mistake?
If you don't know by now that Chrissy Teigen does not play around — well, now you know. Everyone's favorite mom of two recently shared a sweet breastfeeding photo and, because of course, the trolls showed up like clockwork to shame her for it.
Which honestly takes a serious amount of delusional confidence because if you come for Chrissy Teigen, you will regret it. Immediately.
In the Instagram post, Teigen is seen breastfeeding newborn son Miles while Luna looks on, urging her Mommy to also breastfeed her doll. Sweet, cute, end of story, right? LOL NO. Because trolls love nothing more than telling a breastfeeding mom to "cover up."
"Luna making me feed her babydoll so I guess I have twins now," she captions the photo. And while plenty of fellow moms immediately offered their support and thanked Teigen for being so open about nursing her little one, the negative comments came forth in abundance as well.
Teigen herself wasted no time in personally responding to a few of the jerks who can't bear the sight of half a boob.
LOL. Bravo.
She also shared the sweet photo on Twitter — also known as the website where we can't have nice things — and delivered some serious roasts there, too.
To which I happily say:
It is amazing to me that in the Year Of Our Lord Two Thousand And Everything Sucks, people are still traumatized by the site of a smidge of boob while a mom is breastfeeding. Like, what do people think we have boobs for? I remember feeding my daughter in a restaurant once, and some guy bellows over to my husband: "You OK with people lookin' at that?" First of all my dude, if you think my husband needs to grant permission for me to feed our child, I've got some bad news for you about feminism and the fact that it's the 21st century.
Like Chrissy says, there's plenty of things we don't want to see online (*gestures widely*) so trolls can go ahead and "calm their tits" about seeing some.