Chrissy Teigen Shares Car Seat Photo, Admits To Heading Off Mommy Shamers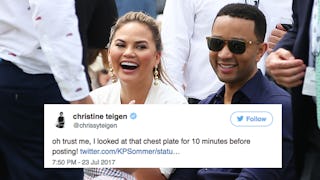 Image via Adam Glanzman/Getty Images
Teigen shuts down mom shamers before they even have a chance
Most parents post pictures of our kids on social media, but rarely do we get as much heat over every, single thing we post about our children as Chrissy Teigen. Teigen is known for being brutally honest when it comes to, well, just about everything. She tackles marriage, politics, parenting and everyday life like a boss — all while under the scrutiny of being a public personality. This is why her latest photo took a full ten minutes of examination before she posted it.
Teigen is no stranger to the public weighing in on her parenting decisions, and is a master at expertly telling mom shamers to back the hell off. She's been insulted by strangers for everything from going on a date too early after giving birth to holding her baby the right way. On Sunday, the model tweeted a gorgeous photo of one-year-old daughter, Luna, smiling in a car seat:
It didn't take long for a fan to praise her for her "bravery" for posting the photo:
Ain't that the truth? We've all been privy to the internet carseat patrol.
"Oh trust me, I looked at that chest plate for 10 minutes before posting!" Teigen joked. With good reason – the public loves to weigh in every time they see a celebrity doing anything wrong, especially when it comes to a perceived safety issue.
It wasn't too long ago Kim Kardashian got thousands coming after her for how her son, Saint, was forward facing in his. Even Prince William isn't immune to scrutiny. So Teigen's response, while hilarious, is also indicative of the world she lives in – one where everyone knows more about parenting than her.
Listen, every parent knows car seats can be confusing. Knowing the proper way to install them, when your child should move from rear to front facing, and when exactly to move your child to a booster seat based on their height and weight can be a stressful decision. According to Forbes, 95% of car seats are installed incorrectly, so it's no wonder Teigen took a pause before posting.
Still, we've all seen the concern trolling parents of the internet — and sometimes it's just too much.
https://twitter.com/jetpack/status/889273862151647232
Wouldn't it be nice to live in a world where as parents we weren't second guessing every single decision we make? Where we could post a picture of our babies and people would just concentrate on how cute the picture is rather than everything we are doing wrong? Unfortunately, with so many armchair experts out there waiting to jump on celebrities and us regular moms alike — this probably won't be happening any time soon.
Good thing we have moms like Chrissy Teigen to commiserate with.