Chrissy Teigen Shares First Photo Of Her Kids Together And Our Hearts Can't Take It
by Valerie Williams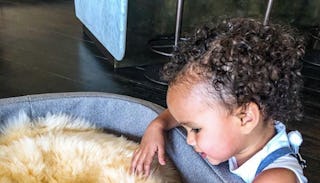 Image via Instagram/Chrissy Teigen
Luna and Miles' first photo together is possibly the cutest thing ever
Chrissy Teigen had her second adorable baby earlier this month and since then, she's blessed us with a photo of little Miles' precious face and one of her in her fabulous hospital mesh underwear. They were equally wonderful, but now, she's outdone herself with a single image.
Luna. Miles. Together. Our hearts can barely handle the sweetness.
Last night Teigen apparently decided she wanted ovaries across the world to explode, and therefore, shared a picture that might make me go back on my firm I'm Done Having Kids stance.
Yup. That's proud big sister Luna with her cherubic curls, round toddler cheeks, and preciously adoring expression gently offering her baby brother his binkie. Are you trying to kill us, Chrissy? Because I'm just a melted puddle of goo now. His tiny baby hands up by his face have slayed me. Also, where can I get an adult lady-sized version of that fluffy bedding he's lounging on? It looks comfy AF.
She only left a credit to the photag as the caption, and why say anything more? An image like this is literally worth a thousand words. My kids are now nine and 10, and being so close in age, I have plenty of sweet photos like this that I now treasure with my entire heart and soul. Those pictures tell a story of their first moments together, getting to know each other. They need no words for anyone to see the love between them.
Great. Now I have to have two more babies.
The day before making us all die of cuteness, Teigen's husband, John Legend, posted an image of the couple out for their first post-baby date night. Because having a toddler and infant at home means taking every single break you can possibly get.
Let's hope Teigen keeps sharing more glimpses of her gorgeous kiddos, because we all need more of this in our lives.