Chrissy Teigen Shared Video Of Her Stretch Marks And Moms Are Loving It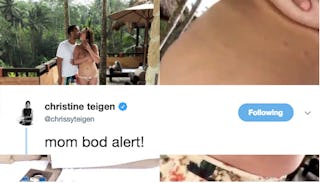 Image via Twitter/Chrissy Teigen
Chrissy Teigen takes to Instagram with some very relatable video of her stretch marks
Chrissy Teigen's no stranger to keeping it real when it comes to pregnancy, motherhood, and her post-baby body. Whether it's showing the world her fabulous mesh panties or admitting that pregnancy can truly suck, she's never one to hold back. That includes proving she's not immune to the body changes that often happen to women after having a baby — just like the rest of us.
In a video from her Instagram stories that she also shared on Twitter, Teigen matter-of-factly points out the small stretch marks on the side of her waist. She captioned the clip "mom bod alert!" and let the truth fly. She also tweeted a sweet photo of herself and husband John Legend, enjoying some couple time while in Bali on vacation with toddler daughter Luna and infant son Miles.
"I guess these just aren't gonna go away. This is my body," she says in the video as she holds the camera close to her midsection.
Sure, they're not plentiful. But you know what? Neither are mine — yet, they still bugged me out in the months after giving birth because I never had them before, and there they were. And as Teigen points out, "these just aren't gonna go away." Nine years post-baby, I can say with authority that she's correct.
Because of those stupid little marks I spent a few years avoiding the bikinis I used to love wearing and instead, felt I should hide my new bod. Teigen touched on that too, saying that she shares these photos and video in the hopes that people with "regular ol' bodies" remember that Instagram perfection is not even close to the norm.
She also takes a moment to point out her bug bites — another thing normal human women get from time to time that you don't see on perfect Insta bikini pics.
Teigen completely knows how it is — and us moms love her for it.
https://twitter.com/jetpack/status/1024103895713206272
She's also inspiring other moms to show their post-baby bodies.
https://twitter.com/jetpack/status/1024105666624012288
Even though Teigen routinely shares uncomfortable truths with her many followers, she never keeps things serious for long.
Yet another reason we can't get enough of her.
This article was originally published on