Chrissy Teigen Shuts Down Woman Who Asks Her To 'Try Naturally' For Next Baby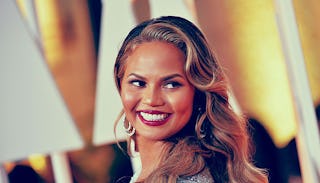 Image via Michael Buckner/Getty Images
Chrissy Teigen reminds trolls to to mind their own damn business
Chrissy Teigen is no stranger to the public weighing in on her parenting decisions, and is a master at expertly telling mom shamers to back the hell off. Her response on Twitter Monday to a woman chiming in on her next pregnancy was no exception.
It all started when Teigen was interviewed on the red carpet of the Producers Guild Awards on Saturday and got to talking with Entertainment Tonight about the possibility of any future gorgeous babies with husband John Legend. "A little boy is next for sure," she quipped.
Then the Internet exploded and Teigen felt the need to clarify her statement because, God forbid, she is allowed to make a glib remark and people just get on with their lives.
Teigen took to Twitter to say, "Since this is coming up again, I said our next baby would be a boy because that is the embryo we have left. A boy. So. Yeah. And no, I am not pregnant."
Teigen has been very open about her struggles with fertility.
She opened up during her daytime talk show FABlife in 2015 saying, "John and I were having trouble. We would have had kids five, six years ago if it had happened," she said. "But my gosh, it's been a process." In another interview for SELF Magazine, Teigen opened up about her IVF treatments saying, "You don't want to get your hopes up, but of course, you do."
Her fans, probably knowing her history, replied to her tweet with support and love. And then there was this woman, who decided to tweet at Teigen, "Did you give it a minute to try naturally or are you avoiding 'the act?' At least no political rants!"
So Teigen responded with the honesty we have all come to expect.
The "witch" in question describes herself on her Twitter account as "Enjoying Prez Trump and new beginnings! Love annoying obnoxious celebs with MY amendment rights granted by our Constitution!"
At some point, people need to stop assuming they know more about a person's fertility history than they do. It can be gut wrenching to struggle conceiving, and throw away comments from people believing they have all the answers does not help the situation. Fertility is a very personal journey for everyone. What works for one person isn't necessarily going to work for another. Really want to help? If someone wants to talk about their struggles — listen. That's it. You don't need to solve the problem, just be a friend and let them know you are there for them.
For what it's worth, it seems this woman is really enjoying her 15 minutes.
You stay classy, girl.
This article was originally published on