Chrissy Teigen Caught Her Son's First Steps On Video And It's Freaking Adorable
by Madison Vanderberg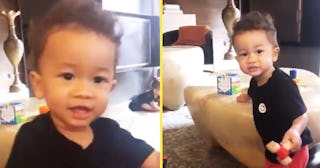 Chrissy Teigen/Twitter
Miles Legend took his first steps and Chrissy Teigen shared it all on social media like any excited mom
Feels like it was only yesterday that we were celebrating Miles Theodore's first birthday and now Chrissy Teigen and John Legend's ridiculously cute 14-month-old son has taken his first steps! Teigen shared an adorable video of her son taking his first steps, well, he took a step, but we're cheering nonetheless.
"I think I just caught his first real steps! Does this count?" Teigen captioned the Twitter video.
In the video, Miles grabs a toy car off the coffee table, takes a step and a half, and then grabs onto the sofa where his mom is cheering him on.
"Good job, you took a step!" Teigen is heard saying.
In a second video on Teigen's Instagram Story, Miles takes another step back to the coffee table! So yes, Chrissy — it very much counts.
The model/mom/cookbook author's very enthusiastic Twitter following was there to cheer Miles on as well, but mostly everyone weighed in on how much Miles looks like a tiny version of his dad.
"I can't get over how much he looks like John! Holy crap! But yay! Walking!" wrote one fan. "I know! He's like John's own version of Mini Me. He's adorable!" said another.
Photographic evidence that Legend and Miles have the same face:
But back to Miles and those steps.
Back on June 4, 2019, Teigen shared a photo of her son crawling through the grass and captioned it, "I think someone's gonna take his first steps in Italy! oh dear."
The Teigen-Legend brood made it to Italy, but little Miles still wasn't totally ready to take those first steps at the time.
Though he did steer a yacht.
The family is currently on vacation in upstate New York to visit Teigen's friends and Teigen had a brilliant idea to make traveling with toddlers slightly less of a headache, especially now that she has a toddler who walks. Teigen rented an RV, which she thought — key word, thought — would eliminate typical travel woes like lugging "baby crap" from cars to hotels and vice versa.
"I had this amazing idea to rent an RV so we could sleep in our friend's driveway with the kids and not go back and forth to a hotel, lugging all our baby crap. I've always wanted to do a cross-country trip but figured just heading upstate would be a good start!" Teigen caption the post.
However, that plan quickly backfired as five minutes into the trip — the passenger window exploded.
Yikes. She made sure to point out that nobody was in the passenger seat and that neither she nor her husband were driving when it happened. But look on the bright side Chrissy, your boy took his first steps! That's exciting enough to erase just about any bad thing going on in life.
This article was originally published on