Chrissy Teigen Opens Up About Her Struggles With Alcohol, And We Love Her Even More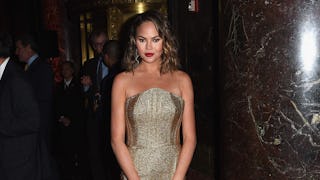 Image via Nicholas Hunt/Getty Images
Teigen gets real about her struggle with alcohol and holds nothing back
Chrissy Teigen is the goddess of authenticity, and an expert at telling it like it is. Her latest dose of brutally honest, what-you-see-is-what you-get reality? Her struggle with alcohol.
Teigen recently opened up to Cosmopolitan, explaining why she was drinking a Red Bull while everyone else was sipping frosé cocktails before an event.
"I was, point blank, just drinking too much," she admitted. She said her drinking went from a drink or two here and there, and then spiraled from there.
"I got used to being in hair and makeup and having a glass of wine. Then that glass of wine would carry over into me having one before the awards show. And then a bunch at the awards show. And then I felt bad for making kind of an ass of myself to people that I really respected. And that feeling, there's just nothing like that. You feel horrible. It's not a good look for me, for John, for anybody."
https://www.instagram.com/p/BXievsClsRu/
Teigen, her husband John Legend, and 16-month-old daughter Luna spent the summer traveling to places like Italy and Bali (ummm…jealous!) before they get ready for another round of IVF treatments. While the family was in Bali, Teigen went to a wellness retreat to reset her health. She eschewed alcohol entirely, ate more healthfully, exercised, and generally felt amazing. She admitted that staying the course will be more difficult once she's back in the Hollywood scene and the stress of daily life takes hold, and she hasn't ruled out going completely sober.
With her lifestyle, where cocktails are constantly replenished, Teigen admitted that she didn't "know how to go to an awards show and not drink." And while awards shows might not be something the rest of us can relate to, the parenting-and-booze duo can be a difficult one to escape. In fact, sometimes it feels like motherhood and wine memes go hand in hand.
Teigen said there's a history of alcohol abuse in her family, and she has trouble having just one drink. She said that alcohol isn't compatible with the medications she takes for postpartum depression and anxiety. And even though no one suggested it was a problem to her, she began to worry that her alcohol consumption was heading in an unhealthy direction.
Our love of Chrissy Teigen is real and it is fierce. We stand and applaud when she claps back at haters who chide her for using IVF, mom-shamers who lecture her about how to hold her own damn baby, and the busybodies who want to know the intimate details of her struggle with infertility. We nod our heads when she gets real about the challenges of breastfeeding, we laugh our asses off when she trolls the trolls, and we give her virtual fist bumps when she tries (and fails) to stay awake at the Oscars. (Seriously, who can stay away past 11:00 at night anymore?) Teigen is is fully committed to her family, fresh out of fucks for things that don't matter, and never fails to tell it like it is – and we love her for it, just like we love and support her for making this difficult admission and taking care of herself.
"I used to think it was kind of nutty to have to go totally sober, but now I get it," Teigen said. "I don't want to be that person… I have to fix myself."