Chrissy And John Held A Beachside Wedding For Luna's Stuffed Animals
by Julie Scagell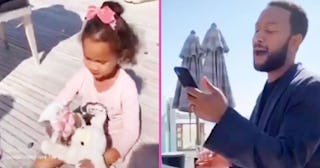 Chrissy Teigen/Getty
Teigen officiated the ceremony and Legend sang a song to the happy couple
As we all try to find ways to entertain our kids (and ourselves) 24/7 now that "family time" means "all the time," Chrissy Teigen and John Legend decided they've reached the "marry off two of my kid's stuffed animals" phase and posted a video of the entire adorable exchange for our viewing pleasure.
Teigen announced the impending nuptials on Twitter, saying, "planning a wedding for tomorrow between a stuffed bunny and stuffed lamb. their song is 'can't keep my hands to myself' and food will be peanut butter on little spoons." The stuffies in question are their three-year-old daughter Luna's lamb Chloe and bunny Nosh.
It's clear by the looks on their faces that Chloe and Nosh are very much in love.
Chrissy shared some of the details of the wedding day over the weekend to keep people interested (like there's any question a ceremony between two stuffed animals wouldn't get top ratings), including pics of the two-tiered chocolate wedding cake. I thought chocolate was poisonous to animals but perhaps that only applies to dogs.
The ceremony was performed by an extremely thrilled Teigen donning a bathrobe (as was Legend) who married the two "everlasting loves" in front of family and friends. Legend then stepped in to perform a request for Selena Gomez's "Can't Keep My Hands to Myself" for the newlyweds who've apparently "never spent a night apart" from each other despite a packed house of various animal options. The song was clearly the most appropriate choice given the circumstances and you could see Teigen in the background doing her best not to pee her pants from laughing.
The whole thing culminated in a passionate kiss between Nosh and Chloe. Obviously, the kids were bushed after such an intense exchanging of vows and took a quick nap break, then the party resumed with a cake-cutting ceremony and dancing into the night.
Thousands of fans tuned in for the wedding because what else do we have to do? This was some good old fashioned, relatively clean entertainment for the whole family to enjoy. Most of us have already run out of ideas and are in the "is this really happening?" stage of quarantine with no end in sight. A joyous wedding between two stuffies seems just the answer we've been looking for.
It's clear the couple is very much in love and ready to spend fur-ever together. Thank you to Teigen and Legend for a moment of levity that is very much needed during this uncertain time. Congrats to the gorgeous couple.
This article was originally published on