Chrissy Teigen Gets Honest About Life As A Breastfeeding Mom
by Ashley Austrew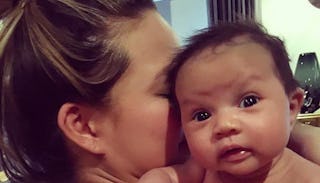 Chrissy Teigen just said what we're all thinking: breastfeeding is hard work
Breastfeeding is beautiful and natural, but there's also a lot more to it than meets the eye. It can take forever to get the hang of it, sometimes it hurts, and probably the most unexpected thing for brand new moms is how long we spend doing it. Chrissy Teigen was apparently just as surprised as the rest of us, and in a recent interview with Entertainment Tonight (ET) the model admitted breastfeeding sometimes kind of makes her feel like, well, a "cow."
Teigen, who gave birth to daughter Luna Simone a little over a month ago, sat down with ET's Jennifer Peros, to talk all things motherhood and baby. She gushed about reaching the stage of newborn-hood where baby Luna is finally smiling and making eye contact.
"Her eyes have uncrossed a little bit, and, like, now, rather than looking right through you, she looks at you, which is really nice," the new mom quipped. "There is no feeling like that first little smile, your first Mother's Day, which was so beautiful and sweet to me. The entire day my eyes were on the verge of tears because I was so happy."
The model was at her funniest, though, when she started talking about breastfeeding. She admitted she was a bit shocked by the grueling feeding schedule of a newborn, even if it is a very special relationship. "The feeding schedule surprised me a lot. If you kind of do the math, you're kind of breastfeeding for 10 hours a day total," she told Peros. "It's very loving and sweet, but it's not easy. They just use you for your milk and you just feel like you are just a cow all day."
Adds Teigen, "It's hard to work your entire day around getting her the nourishment she needs because they are just little animals."
Can I get an amen from every exhausted momma in the room?
When my oldest was a newborn, I remember waking up for the 2 a.m. feedings and wishing I had some sort of fairy godmother who could come down from heaven or saturn, or wherever fairy godmothers live, and just please lend me a boob for a second. Baby feeding schedules are no joke, and even when I ended up using formula with my second, I still didn't feel like I had a moment's rest. Those little critters just want to eat all the time.
Lots of celebrity moms idealize breastfeeding. They do gorgeous photo spreads that show them nursing in a ball gown in a field of butterflies or something, and then they talk about how breastfeeding is the most wonderful, glorious, natural thing ever. There's nothing wrong with that, of course, but it's also refreshing when someone in the public eye cops to the challenges and surprises of motherhood that we all deal with.
New motherhood is a stunning, difficult, blissful, draining, fantastic thing. More than anything, moms just want to know they aren't alone on this crazy ride. Luckily, Chrissy Teigen is always there with a hilarious and quirky truth bomb to get us through that 3000th feeding.
This article was originally published on