Chrissy Teigen Pays Tribute To Son Jack With New Tattoo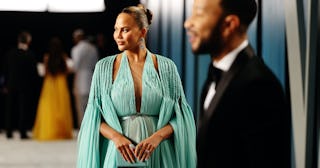 Rich Fury/VF20/Getty Images for Vanity Fair
Teigen also has tattoos of John, Luna, and Miles
Chrissy Teigen shared a sweet tribute to her late son Jack, who she lost at 20 weeks after a difficult pregnancy.
On Halloween, the cookbook author shared the photo of a tattoo she recently got in memory of her and husband John Legend's son. It's a tattoo similar to others she has of her family. She and Legend went on a well-deserved date night, and during it, she took a picture of them holding hands, revealing a new tattoo on her wrist that shows Jack's name written in cursive.
The ink is located just above another tattoo Chrissy has that says "John – Luna – Miles," for her husband and their daughter Luna Simone, 4, and son Miles Theodore, 2. Legend has a matching tattoo with the names "Chrissy – Luna – Miles."
Teigen recently opened up about the pregnancy loss in a heartbreaking essay, in which Teigen wrote about the night they lost Jack and addressed the photos she shared, which were criticized by some as inappropriate.
"I cannot express how little I care that you hate the photos," Teigen wrote. "How little I care that it's something you wouldn't have done. I lived it, I chose to do it, and more than anything, these photos aren't for anyone but the people who have lived this or are curious enough to wonder what something like this is like. These photos are only for the people who need them. The thoughts of others do not matter to me."
Teigen also wrote about how she will explain the loss to her kids.
"Jack will always be loved, explained to our kids as existing in the wind and trees and the butterflies they see," she wrote. "People say an experience like this creates a hole in your heart. A hole was certainly made, but it was filled with the love of something I loved so much. It doesn't feel empty, this space. It feels full."
Teigen also talked about the heartbreaking night and hearing others celebrate a life born while she was losing one.
"People cheered and laughed right outside our door, understandably for a new life born and celebrated. You kind of wonder how anyone is thinking about anyone but you," she shared.
Now, Teigen has a permanent reminder of son Jack to remind her of the life and loss and all she's done for families silently dealing with it themselves. "I absolutely knew I needed to share this story," she wrote.