Chrissy Teigen Hints At Big Baby News On Twitter
by Valerie Williams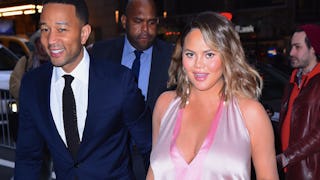 Image via Robert Kamau/GC Images
Chrissy Teigen tweeted some baby news late last night
During the night, Chrissy Teigen took to her favorite social media platform to share some pretty big news — or at least hint at it. The Lip Sync Battle host and cookbook author was expecting her second child, and it sounds like he may have made his arrival.
She tweeted, "Somebody's herrrrrrre!" along with some very telling emojis.
That's all we know so far, but it's pretty huge. Sounds like Baby Boy Teigen Legend is finally in the house. Teigen announced the big pregnancy news months ago. Rather, she let oldest child Luna reveal the happy surprise.
The couple hasn't released photos or a name, but judging by Teigen's tweets lately, she was SO ready for this day to come.
Just over a week ago, she was extremely done.
Because yes, the IVF process (Teigen is famously open about the couple's long road to baby) is not only pretty lengthy and involved, it also means knowing you're pregnant at about five minutes gestation. Translation: it feels like you're knocked up for three years.
The signs she was about to pop are all on her Twitter feed. Like the late third trimester heartburn rearing its ugly head.
The midnight taco cravings.
The urge to have things "tidy" down there for the big moment but also, pain-free. This actually sounds kind of genius if it turns out to be safe.
She just completely gave up on pants. Relatable.
So is her desire to nest like crazy.
Yesterday, she shared this sweet image of tub time with little Luna — officially one of her last days as an only child. The precious photo now has a whole new significance. As the mother of two under two, my heart is melted into a puddle. Been there.
We can't wait to see the first photo of this sweet little guy and also, pics of him with his adorable big sister. Tweet out the deets, Chrissy. We could always use this kind of happy news and photos of those gorgeous babies.
This article was originally published on