Chrissy Teigen Claps Back At Mom-Shamers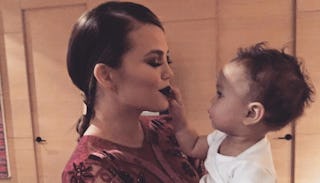 Image via Instagram
She took to Twitter to share the latest judgments on her parenting from total strangers
Chrissy Teigen is our celebrity mom BFF because she tells it like it is and has zero time for anyone's shit. That especially applies to people who mom-shame her. We can all learn a lesson from the queen of the clap-back when it comes to defending our parenting from idiots who shouldn't be talking in the first place.
You know how us regular parents deal with judgment on social media? Between that bitchy PTA mom who always has to comment and your mother-in-law who refuses to mind her business, Facebook and Instagram can be a landmine of annoying and insulting interactions. Now imagine if it weren't just that handful of awful people and instead, an entire internet's worth of awful people, and you have an idea of what Chrissy Teigen puts up with when she posts photos of daughter Luna.
Check out an image Teigen shared with her Twitter followers yesterday. It's a series of hateful comments from a photo of Teigen, Legend and their baby girl.
Teigen, who recently opened up about her battle with postpartum depression, tweets, "Imagine being this miserable. We are fine, thanks."
Imagine indeed, not only being that miserable, but that stupid. "That baby never shows emotions, she never smiles or frys [sic]. Its weird."
Well, we certainly hope tiny Luna isn't frying anything yet. The sweet tot can barely walk.
"Golden rule of dressing babies is however many layers you are wearing plus and [sic] extra one! Common sense really," says the next asshole with nothing better to do. Awfully rich to be talking "common sense" when you can barely string together a cohesive sentence, but haters gonna hate, lack of spelling and grammar skills be damned.
"They both have jackets on and they can't even put a pair of socks on the poor baby," says a clueless moron who's clearly never dealt with a baby who kicks off her socks the moment they're put on.
You know who can get away with trolling moms about how their babies are dressed? Our own grandmothers. That's all. Everyone else who dares question our children's outerwear (or lack thereof) should expect a throat punch. You've been warned.
"Someone should tell her she's got holes in her trousers, and in her brain too, but you can't see them underneath her oh so expensive hat," declares a total jerk who needs a big attitude adjustment.
Who in the hell are these people? What makes a person decide to leave such vile garbage on a photo of a sweet baby and her obviously loving parents? As Teigen says, they're certainly "miserable."
Unfortunately, the internet has opened the door for insecure and cruel people of every stripe to attempt to make themselves feel better by openly criticizing a total stranger for their parenting. Bonus if it's a celebrity they can try to feel superior to. It's so totally ridiculous, and luckily, Teigen takes it in stride.
Nailed it.
This article was originally published on