Chrissy Teigen Offers $100K To Help McKayla Maroney Against Abusive Team Doctor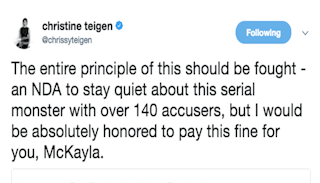 Image via Twitter/Chrissy Teigen
Former USA gymnastics team physician Larry Nassar has been accused of sexual abuse by 140 women
After filing a law suit against the USA gymnastics team last fall for alleged sexual abuse McKayla Maroney suffered at the hands of former team physician Larry Nassar, it came to light that the USA gymnastics team paid a hefty sum to ensure Maroney was silenced through a non-disclosure agreement (NDA). Maroney, along with her teammates Simone Biles, Aly Raisman, and Gaby Douglas have also come forward against Nassar.
Enter Chrissy Teigen, who sees Maroney's NDA for the victim-silencing bullshit it is, and took to Twitter to right the wrong herself.
Currently, Nassar is in the midst of a sentencing hearing following multiple counts of abuse and possession of child pornography. Many of his alleged victims have come forward to offer their heart-wrenching testimony. Unfortunately in Maroney's case, in order to get out of the NDA and freely speak her truth about the abuses she suffered, she would face a $100,000 fine.
Teigen offered to pay the Olympian's NDA fine if she chooses to speak about her sexual abuse by former USA Gymnastics team doctor Larry Nassar.
"The entire principle of this should be fought," Teigen shared on her Twitter account. "An NDA to stay quiet about this serial monster with over 140 accusers, but I would be absolutely honored to pay this fine for you, McKayla."
Many of Nassar's accusers are coming forward publicly for the first time while making their statements in court. Nassar's alleged victims range from mostly athletes and dancers to family friends — with one of his victims stating his abuse began when she was just six years old. As of now, Nassar has been accused by 140 women of serial sexual abuse during his past tenures as the team doctor for USA Gymnastics, various Michigan State University sports teams and a physician for a Michigan gymnastics training gym.
People all over Twitter applauded Teigen's offer, because Maroney has a right to share her story about the abuse she suffered.
https://twitter.com/jetpack/status/953301944147341323https://twitter.com/jetpack/status/953300921576017921
Some called for a change in legislation, because NDAs like this in matters of underage abuse like this are complete bullshit.
Michael Schur, creator of NBC's The Good Place (a show that is the creative embodiment of a chef's kiss, if you're curious) and "Ken Tremendous" on Twitter saw Teigen's tweet and threw out an offer of his own.
Star of The Good Place and another favorite celebrity mom, joined in too.
The victim statements coming out of the Nassar hearing are downright devastating. One of his 140 alleged victims committed suicide, another lost her father to suicide once he found out his daughter suffered through Nassar's sexual abuse.
In response to Teigen's offer, Maroney released the following statement through her attorneys:
"I'm not on social media right now, but I wish I was for this! I'm shocked by your generosity, and I just want you to know how much hope your words bring to all of us! I just can't get over the fact that someone I don't personally know is sticking up for me, let alone a strong woman that I've looked up to for years.
Thank you Chrissy, you're so inspiring, and things are starting to change because of people like you! Just saying that was worth the decision to speak up regardless of a fine."
This article was originally published on