Chrissy Teigen's Tweet About What Pregnancy's Doing To Her Face Is Relatable AF
by Cassandra Stone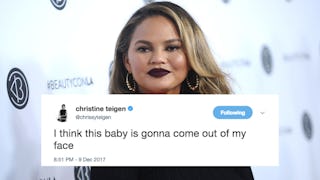 Image via Jason LaVeris/FilmMagic/Twitter
Ankles aren't the only things that swell during pregnancy
Pregnancy is, of course, something to celebrate. But not all aspects of pregnancy are celebratory — the heartburn, nausea, exhaustion, and constant discomfort can be annoying AF. The physical changes pregnancy brings to our bodies can even make a beautiful model feel insecure — just ask our favorite celebrity mom, Chrissy Teigen.
Not only is she one of our favorite moms (and soon-to-be mom of two), but she's one of the wittiest, most hilarious Twitter follows in general. Take, for instance, this mini-thread she shared about what pregnancy is doing to her face.
LOL. It's true that facial expansion can be A Thing when you're pregnant. I know I personally thought I had avoided it altogether, and then during my eighth month — BOOM. My face looked like Neil Armstrong had landed on it, it was so swollen and wide.
Chrissy Teigen, glorious amazon and beautiful model, wants us to know she gets the struggle.
Haha! Oh God, at least she's a good sport about it. Because what can you do? There's something about those hormones that just go right to your face for many pregnant women, and that's that.
All we can do is collectively come together to complain and poke a little fun at ourselves.
While there are a few people (read: MEN) who don't get this reference, there are plenty of women who do.
https://twitter.com/jetpack/status/939675830241783808
https://twitter.com/jetpack/status/939674510403309569
A big "YASSS" to the bronzer solution mentioned above. I was layering that shit all over my nose, my jawline, and my swallowed-up former cheekbones DAILY. Then I gave birth, and poof! Back to my regularly scheduled facial programming. Every time someone was quick to remind me how "beautiful" I was because I was pregnant, I was even quicker to remind them how extra stabby I felt because I was pregnant.
Regardless of Pregnancy Face and all other weird pregnancy changes and discomforts, Chrissy truly is beautiful and we hope she never stops tweeting relatable things — forever and ever, amen.
https://www.instagram.com/p/BcQmqIDleDO/?hl=en&taken-by=chrissyteigen
This article was originally published on