Chrissy Teigen Shuts Down Troll Who Questioned Her IVF -- Again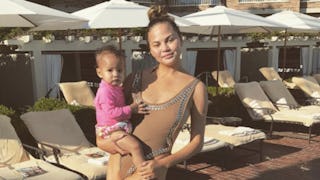 Image via Instagram
She's the troll whisperer and we love her for it
Chrissy Teigen's no stranger to slamming the internet jerks who question her parenting and how she became a mom to begin with. Now, the queen of the clap-back is at it again, because sadly, people just can't keep their mouths shut and mind their own business.
Teigen and husband John Legend have long been open about their struggle to conceive and the science that finally helped them get pregnant with daughter Luna, now 14 months old. She's also stood up for women going through what she went through, reminding the world that you never really know whether a couple is trying and having trouble conceiving.
So you probably shouldn't ask.
She's never hid the fact that she got pregnant through IVF and in doing so, helped bring the conversation casually out into the open with her signature humor.
Now, that humor was met with a troll that Teigen couldn't ignore. This week, she joked hilariously about the fees she and Legend have to pay in order to keep their remaining embryo frozen from the IVF round that got her pregnant with Luna.
Of course, the first line of thinking was that Teigen was sneakily announcing she was pregnant again. She was quick to shut that shit down.
But the whole thing proved too much for one bitchy troll to stay quiet.
Sure, sweet pea. Instead of simply having sex with her husband, Chrissy thought it better to be pumped full of hormones and medications via painful injections to her abdomen and have an invasive procedure to retrieve her eggs and combine them with her husband's sperm, all to the tune of thousands of dollars. It was just good sense.
Eye roll.
Chrissy was 100 percent not here for this woman's nonsense, and we're giving her a standing ovation.
The troll in question has since deleted their account because apparently, they can dish it, but can't take it. Teigen is known for going in on Twitter users who say hurtful things, so this person probably should've known better. My favorite Teigen takedown was when one woman asked if the model and her husband had "given it a minute" to try naturally before using IVF. Her response should be bronzed and hung in a clap-back museum to warn anyone else coming for her that they probably shouldn't bother.
Most celebs would simply ignore the mouth breathers that harass them online, but Teigen won't stand for it. In speaking up for herself and the science and medical advances she used to get pregnant, she's also defending other couples who have to answer to their own Lindas. The nosy aunts who think IVF is wrong because of their religion or the coworkers who give them shit for needing time off to go to doctor's appointments. Teigen has a huge platform and we love how she uses it.
Thanks again Chrissy, for standing up to the awful trolls and making us love you that much more.
This article was originally published on