Chrissy Teigen Gives Props To Single And Working Moms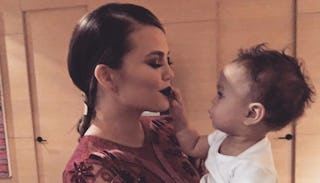 Image via Instagram
Chrissy Teigen talks about the help she gets and her respect for moms who do it all
Chrissy Teigen is our favorite celebrity mom for so many reasons, but the biggest one is her honesty about the realities of parenting. In a recent interview, she gets real about her relative privilege as a celebrity mom and has some words of encouragement for those who parent without all of the support she has.
Teigen tells Yahoo Style all about her awards show beauty routine and life as a mom to baby girl Luna, who was born last April. "I really want people to know that so many things go into all these things," she says, referring to the glamming up required for her to look so flawless on the red carpet. After all, the supermodel, who hasn't missed an appearance in the Sports Illustrated Swimsuit Issue since 2010, is known for looking effortlessly amazing.
Teigen says her seamless public appearances are all about what goes on behind the scenes. "Having help. My mom lives with us. I have hair and makeup people. I'm not getting up and doing all this by myself. If I'm not being done for something, I'm not going anywhere. A lot of hands go into it. We have help. It's important for people to know that."
In this age of airbrushed photos all over social media, it's very important for people to know that. Especially us moms, who see her looking so gorgeous at awards shows as we sit in our third-day yoga pants and unwashed hair. Teigen wants us all to understand that her gleaming perfection is not normal, and comes at a cost.
"These days, less is more. I feel like it's different for everyone. Some people love getting glammed up. I hate it. I hate sitting in that chair. It's painful to me. If I could choose my day, it would be waking up and putting on a face mask and making my skin clean and spending time with my daughter. There's not much else I care to do."
Though she might not get to spend all the time with Luna that she wants to, Teigen still knows that she has it better than pretty much everyone. "I have the utmost respect for mothers and single mothers who go to work and come home and make dinner. I do all these things because I have help. Luna goes down at 6:30 and has a nurse watch her, and I can cook dinner."
That all might be true, but the toll of being a parent isn't just the day-to-day physical work. Your heart and mind are forever owned by a tiny person/people, and it colors literally everything in your life. She might have it much cushier than us, but when it comes down to it, she still gets where we're coming from. And because of that, she respects the moms that live this life of raising little ones without the benefit of the perks celebrity affords her.
And we love her for it.