Her 6th Grade Teacher Asked Her To 'Invite' Her To Her Harvard Graduation. She Did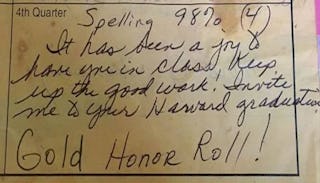 Image via Facebook/ Harvard T.H. Chan School of Public Health
Christin Gilmer's sixth-grade teacher knew she'd make it to Harvard someday
Never underestimate the impact teachers can have on their students — even more than two decades later. Christin Gilmer, a recent Harvard graduate, was so inspired by the words of her own middle school teacher that she knew she wanted to surprise her in the sweetest way as her graduation approached.
At the end of the school year in June 1997, Arizona sixth grade teacher Judy Toensing wrote a message on Gilmer's report card that stayed with her for 21 years: "It has been a joy to have you in class. Keep up the good work! Invite me to your Harvard graduation!"
And that's exactly what Gilmer did.
She showed up to Toensing's classroom with an invite to her graduation ceremony. Last month, Gilmer wrote a special "thank you" Facebook status dedicated to her favorite teacher, explaining how the impact of educators like Toensing helped shape Gilmer's future.
She specifically honors Arizona public school educators for "fighting for their basic needs to be met in and out of the classroom" and for giving so much of themselves through their job. "Of these many amazing heroes, I met one of these teachers in the sixth grade, Ms. Judy Toensing, who taught me about current events, global health, and human rights," Gilmer writes. "She was the first person who passionately conveyed the plight of people living with HIV/AIDS to me and started me on this journey. In a picture I still carry around, she told me on the last day of school that year that she would see me at my Harvard graduation, and now I can finally invite her (21 years later) and try to show her how grateful I am to her and all of my teachers from pre-K – college."
I'm not crying, you're crying.
This past weekend, Gilmer graduated from Harvard as a doctor of public health. Mrs. Toensing was not only there to watch Gilmer graduate, she was also mentioned in the dean's convocation speech.
"You don't just teach young people. You inspire them, and you propel them along a path of fulfillment and service to others. Your work is what makes our work possible. Thank you for everything you do, and please keep sending students our way!"
We all have experiences with our teachers we never forget — some are frustrating, some are motivating, and others mold us into who we want to be by showing us what it's like to take our talents and turn them into passions. Personally, I wasn't always an exemplary student. If I wasn't interested, I didn't try very hard. The teachers who made me want to do better — for myself and for them, too — were the ones who had high expectations and an intense drive to prepare me and my classmates for the future.
For her part, Toensing tells CNN she was "shocked, flabbergasted, and humbled" when Gilmer offered her an invitation to Harvard. "I feel honored that Harvard chose to tell Christin's story, her journey, and that I was a small part of that journey," she says.
Gilmer says her time in Mrs. Toensing's sixth-grade classroom was more than well-spent. "She lit a fire in me that helping people is a powerful tool, and through education, you can better serve populations in need. I will never forget her passion for others."