'Flip Or Flop' Star Fires Back At Mom Shamers On Instagram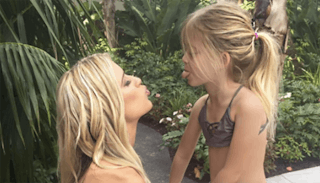 Image via Instagram
Christina El Moussa isn't taking any of your grief on her Instagram pictures
What would we do without mom-shamers? (Hint: Live happily ever after.) Christina El Moussa is used to being in the spotlight. Her hit show Flip or Flop has been a huge success for HGTV and is now being spun off in several cities around the U.S. She recently went through a very public divorce with her now ex-husband and cohost, Tarek. This week she was back in the news for posting pictures of herself and her kids having fun. Because the internet can't handle moms having fun and want to make sure everyone knows about it.
The first picture she shared on Instagram showed three little girls and her six year old daughter, Taylor, playing in a shallow backyard pool. Her 19 month old son, Brayden, stood close watch near the edge, wearing a pair of adorable pajamas. Apparently too close for some peoples comfort level.
https://www.instagram.com/p/BSDAVf3jOzr/?taken-by=christinaelmoussa
"Our first slumber party!! … 6 kids, a dog and 2 moms. So fun, crazy, but so fun," El Moussa captioned the photo. That's when the mom-shamers decided to let her know exactly what she was doing wrong.
"No one is a hater, but as a mother it is scary to have a toddler being that close to a pool!"
"Made me nervous looking at this too."
El Moussa was quick to respond back to the concerned onlookers. "OMG 1. It's a beach entry if he fell in it's only a foot high, he would be ok 2. It's not his first time in or around the pool,but thanks for your "concern" aka judgment 3. AND most importantly I am right there and could be to him in 3 seconds SMH at this …..!!!!"
Part of being a public figure means having your every move scrutinized. Never more so than online, where faceless strangers feel much more willing to overstep their bounds and bully others' parenting decisions, outfits, weight, opinions — and just about every other aspect of a person's character. The internet provides anonymity for people to say things to others they wouldn't fathom saying to their face. And who doesn't appreciate a little good old fashioned passive aggressiveness from a stranger?
This was El Moussa's second round with internet shamers last week. On Thursday, she shared a picture of herself and Taylor in matching bathing suits, showing off their newest family member, an adorable French bulldog puppy named Cashie and people Just. Couldn't. Even.
"No modesty at all. This is what you're teaching your daughter?"
"Her bones are sticking out ..she needs to eat a hamburger. LOL"
"All for fame.."
Though some called the photo "inappropriate," the majority her Instagram followers were supportive. So they should be. People should spend time lifting each other up, not bringing each other down. All we see is a mom and a smiling, happy kid spending time together. We think the only thing she is teaching her daughter is to be confident in who you are.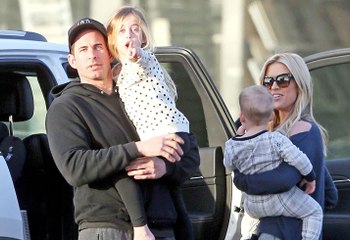 This article was originally published on